UK-MANUFACTURED BONZER CUP DISPENSERS LEAD THE WAY IN BOOMING UK COFFEE SECTOR
Surrey-based branded cup specialist, Go For Green Ltd, are flying the flag for UK manufacturers as they recover post pandemic. Working with Really Awesome Coffee Company, they supply Bonzer™ coffee cup dispensers, manufactured in the UK by Mitchell & Cooper in Uckfield.
Sourcing these vital components from UK manufacturers is not only helping the British economy recover post Pandemic, but also helps safeguard manufacturing jobs and eradicates complex supply chain issues in terms of unavailability of components previously sourced from abroad.
Mitchell and Cooper are delighted to be able to service this growing market with their high-quality British-made Bonzer disposable cup and lid storage solutions. – Fantastic for storage and functionality for the whole lifecycle of the cup, both pre-use and post-use to help reduce coffee cups turning into litter.
Wayne Whoriskey, Managing Director at Go For Green said
"Mitchell and Cooper really look after us and we love working with them. The whole team are reliable and have always communicated accurate lead times. Lots of the components and products are made in house, so they have an up-to-the-minute measure of parts availability. Working with their Bonzer™ British cup dispenser brand, greatly ticks the box of corporate social responsibility for Really Awesome Coffee and many more of our clients, who are delighted to support British Manufacturing as we come out of the other side of the toughest two years in living memory. It also gives us the peace of mind to be able to deliver on time and with an excellent quality product and the trusted Bonzer brand, owned by Mitchell & Cooper."
The future of the UK coffee shop marketplace is increasingly being shaped by increased consumer participation and the desire for premium quality coffee anywhere, anytime – Mobile coffee vending solutions like the franchise model offered by Really Awesome Coffee have really taken off as an alternative to 'bricks and mortar' coffee shops.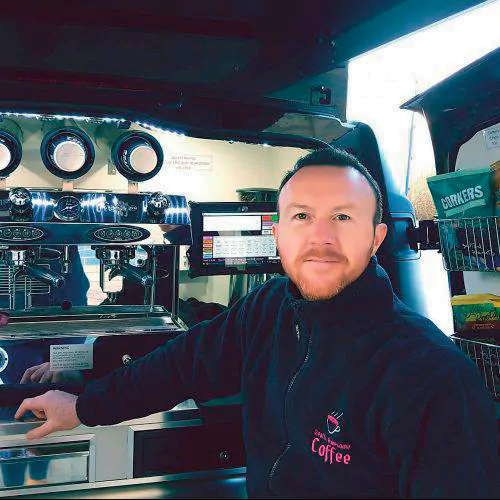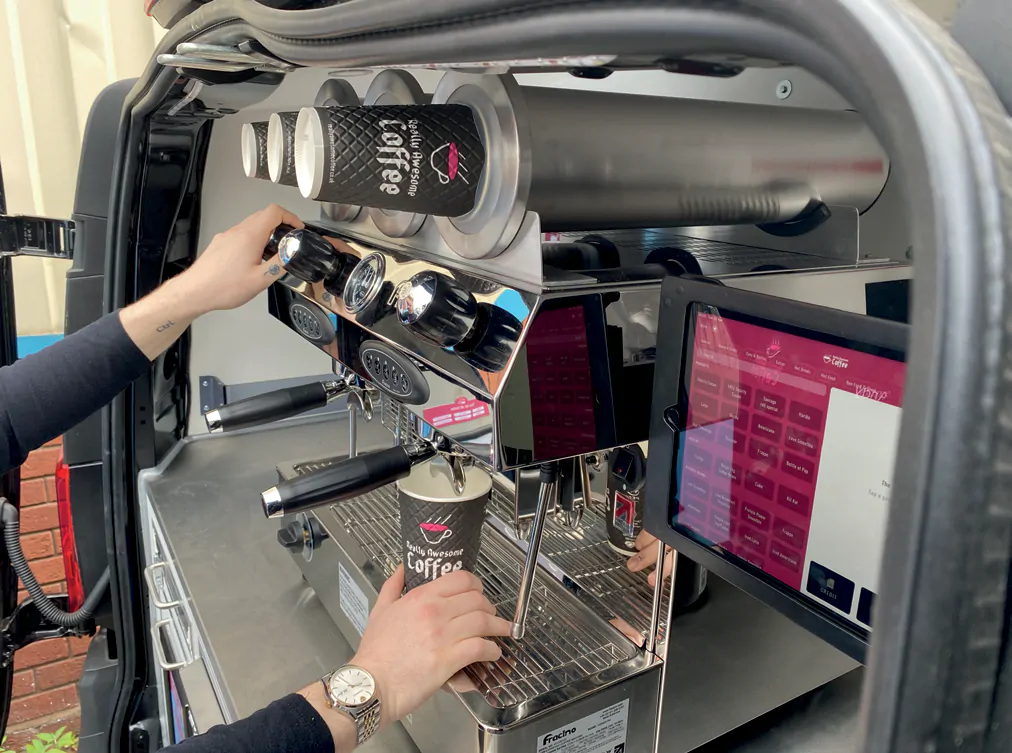 Kat Cooper, Project Director at Mitchell & Cooper said
"Cup dispensers are just one of our Bonzer™ branded light catering equipment lines that we manufacture in our Uckfield factory. We also produce a range of barware and cocktail-making equipment as well as the famous Bonzer ™ can openers that can be seen in cafes, bars and restaurants all over the world. Many of our team members have been with us for decades, some even multi-generational, so it is great to be able to safeguard their jobs and look forward to a bright future of greater support from the UK coffee sector in supplying the highly buoyant mobile coffee vending market trend with British-made components."
Project Café UK 2022 revealed the UK's £4.4bn branded coffee shop market grew 43% over the last 12 months to regain 87% of pre-pandemic market value, with outlet numbers now exceeding 2019 levels, making it one of the UK's strongest performing sectors with no signs of ending.

Really Awesome Coffee's franchise network has seen huge growth over the last few years, with more and more franchisees investing in their mobile coffee van model; Following both lockdowns, they have seen many more franchisees expand their businesses into multi-van operations with roughly 1 in 6 franchise partners now running multiple coffee vans (some with 5 or 6 vans!).
Go For Green greatly support Totally Awesome Coffee's franchisees in grabbing their slice of a booming market by helping Really Awesome Coffee source and fit British-made cup dispensers from Mitchell & Cooper in neat van conversions.
Whilst the coffee shop revolution is clearly visible, the mobile café market remains accessible and fresh. Really Awesome Coffee offers their franchise partners a fantastic opportunity to follow this demand by taking the traditional high street coffee shop direct to the customers, wherever they are!
The Really Awesome Coffee tried and tested business model is proving to be one of the top coffee franchises in the UK.
Kevin Haswell, Founder and Managing Director of Really Awesome Coffee concluded
"Through our years of experience in the mobile coffee business, we provide entrepreneurs with the information, skills and support necessary to build a profitable mobile coffee franchise in the rapidly expanding UK coffee sector. We are delighted to source our coffee cup dispensers from a UK Manufacturer, and Wayne at Go For Green facilitates this. Go For Green ensures their quality products arrive on time, enabling us to deliver a steady stream of van conversions to our franchisees month on month, maintaining our growth strategy."