Don't have an account?
Creating an account has many benefits: check out faster, keep more than one address, track orders and more.
HotmixPRO Dry is a professional food dehydrator for catering and Horeca. It is made entirely of stainless steel and has two separate areas, recipes, and perfect temperature control. This new tabletop dehydrator will really surprise you! DRY is a professional dehydrator and warm storing cabinet. Equipped with 8 stainless steel 1/1 Gastronorm trays + 1 separator, HotmixPRO DRY transforms your recipes in unique and inimitable creations, with strong flavors and surprising textures.
Features:
Entirely made of stainless steel
Two separate areas
Recipes
Perfect temperature control
1/1 stainless steel Gastronorm trays
Transforms your recipes into unique and inimitable creations
Strong flavors and surprising textures

Benefits:
Produces high-quality dehydrated food
Easy to use and clean
Versatile and can be used for a variety of foods
Saves time and money
Improves food safety
Increases shelf life of food

Applications:
HotmixPRO Dry can be used in a variety of settings, including:Restaurants
Bars
Cafes
Hotels
Catering companies
Schools
Hospitals
Nursing homes
Prisons
Specifications:
Dimensions: 530 x 325 x 450 mm
Weight: 15 kg
Power: 1.5 kW
Temperature range: 24 - 130°C
Capacity: 8 trays
Order your HotmixPRO Dry today and start creating delicious and nutritious dehydrated food!
Specifications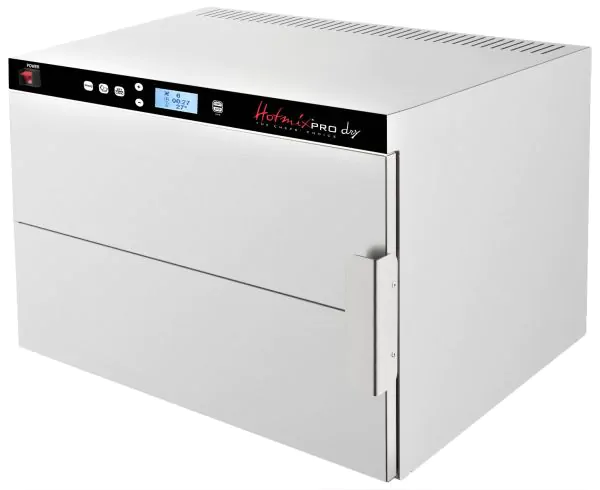 Brand Name

HotmixPro

Product Group

Dehydrator

Primary Material

Stainless Steel

Colour

Stainless Steel

Power (Max Watts)

1800
Interested in these?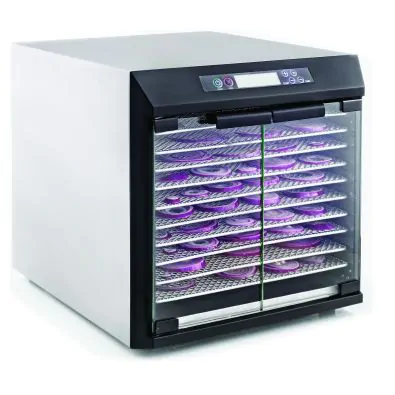 Excalibur 10 Tray Digital Dehydrator - UK Plug
The Excalibur 10 Tray Digital Dehydrator is the perfect appliance for anyone who wants to make healthy, delicious food at home. With its spacious 16 square foot capacity, you can dehydrate large batches of food at once, making it ideal for families or anyone who enjoys cooking in bulk. The digital controls allow you to set the temperature and time for each batch, so you can get the perfect results every time. And the stainless steel trays are easy to clean, so cleanup is a breeze.