Bonzer Boston Shaker Distressed Steel - 28oz
Don't have an account?
Creating an account has many benefits: check out faster, keep more than one address, track orders and more.
Bonzer Boston Shaker Distressed Steel - 28oz
Elevate your bartending with Bonzer Boston Tins: precision-crafted stainless steel tins for pros and enthusiasts. Secure, spill-free shake. Weighted for balance. Durable for busy bars. Effortless mixing, sleek look. Versatile, easy to clean. Perfect your cocktails with style and functionality.
Introducing the Bonzer Boston Tins: Elevate your bartending game with the ultimate mixing tool!
Crafted with precision and designed for professionals, the Bonzer Boston Tins are a must-have addition to any cocktail enthusiast's arsenal. Whether you're a seasoned mixologist or just starting on your cocktail journey, these tins are here to help you create exquisite drinks with style and flair.
Key Features:
1. Perfect Pairing: The Bonzer Boston Tins comprise two sleek and seamless stainless steel tins that fit snugly together, ensuring a secure and spill-free shake every time. The larger tin 28oz accommodates ample ingredients while the smaller tin 18oz snugly fits over the larger one, forming a tight seal for efficient mixing.
2. Optimised Weighting: Each tin has a weighted base to aid balance in the hand, on the bar and while shaking.
3. Durable Construction: Crafted from high-quality stainless steel, these tins are built to withstand the rigours of a busy bar environment. Their sturdy construction ensures they can handle countless shakes, drops, and spills without losing their shine or functionality.
4. Effortless Mixing: Achieve a perfect blend of flavours and textures with ease. The seamless design ensures a smooth pour and efficient transfer of cold between the tins, allowing your ingredients to meld harmoniously. The precise fit and balanced weight distribution make shaking comfortable and efficient.
5. Professional Look and Feel: Impress your patrons and guests with the sleek and polished appearance of the Bonzer Boston Tins. Their sophisticated design adds a touch of elegance to your bar setup, elevating the overall aesthetic of your creations.
6. Versatile Usage: From classic cocktails to innovative concoctions, these tins are designed to cater to a wide range of mixology needs. Whether you're shaking, stirring, or simply pouring, the Bonzer Boston Tins excel in every aspect of cocktail preparation.
7. Easy to Clean: Cleaning up after a busy night is a breeze with the Bonzer Boston Tins. The stainless steel material resists staining and is easy to wipe down, ensuring you spend more time crafting cocktails and less time on maintenance.
Whether you're a professional bartender aiming to streamline your process or a home enthusiast seeking to perfect your cocktail skills, the Bonzer Boston Tins are the quintessential tool to achieve your mixology goals. Invest in quality, functionality, and style – elevate your bartending experience with the Bonzer Boston Tins today!
Specifications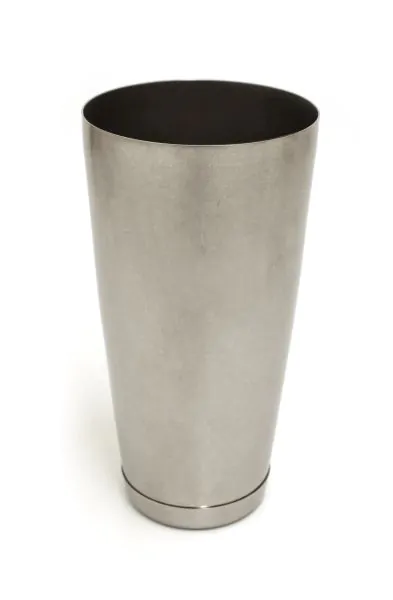 Brand Name

Bonzer

Product Group

Boston Tin

Primary Material

Stainless Steel

Capacity (ml)

830

Colour

Distressed Steel