Bonzer Boston Shaker Gold - 18oz
Don't have an account?
Creating an account has many benefits: check out faster, keep more than one address, track orders and more.
Bonzer Boston Shaker Gold - 18oz
Elevate your bartending with Bonzer Boston Tins: precision-crafted stainless steel tins for pros and enthusiasts. Secure, spill-free shake. Weighted for balance. Durable for busy bars. Effortless mixing, sleek look. Versatile, easy to clean. Perfect your cocktails with style and functionality.
The Bonzer Gold Boston Shaker Can is the prefered method of mixing cocktails over ice. The boston can has a weighted base which allows the can to flip while flaring, bringing it back to the bartenders hand perfectly. Made of only the most durable stainless steel with gold plating for a professional finish, this robust shaker is able to hold up to a 28 oz capacity making it an ideal addition to any bar or restaurant catering for large audiences. Weighted Base, Durable Stainless Steel Finish, Tapered Shape, Can be used with a glass or tin.

The 18oz tin fits perfectly with the 28oz can for perfect shaking.

Bonzer first developed its barware back in the 1930s. Due to the brands history in silverware it was an obvious development. The first items off the production line proved to be a great success. With the original Hawthorne Strainers, Thimble Measures, Bar Spoons and Cocktail Shakers the brand was estabilished and had made its mark on the industry. A number of years on and with a heritage to be proud of Bonzer have revisited some of the classic tools. Having taken on board the feedback from professionals and evolved some of the designs and feel to give thart classic Heritage quality and value.
Specifications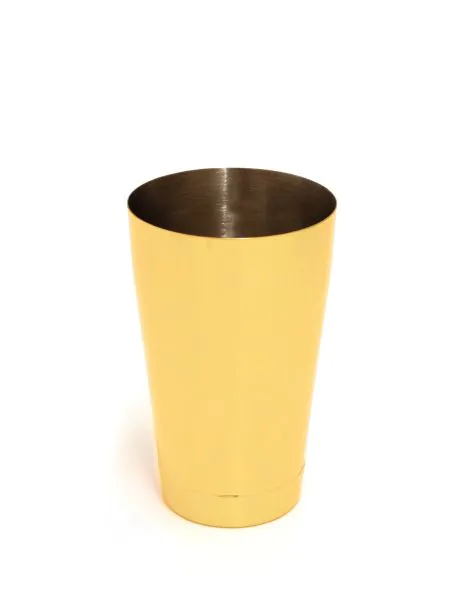 Brand Name

Bonzer

Product Group

Boston Tin

Primary Material

Stainless Steel

Capacity (ml)

530

Colour

Gold