Bonzer Standard Jigger - NCE - 20/40ml NCE
Don't have an account?
Creating an account has many benefits: check out faster, keep more than one address, track orders and more.
Bonzer Standard Jigger - NCE - 20/40ml NCE
The Bonzer 20/40 Jigger is a durable stainless steel tool with two measuring thimbles on each end. It speeds up drink preparation in bars, allowing quick creation of cocktails and various drink sizes. Made from Hospital Grade Stainless Steel, it features a 3-ring Bonzer design and comes with a Lifetime Guarantee.
The Bonzer 20/40 Jigger boasts all the same fantastic qualities and ultimate durability as the standard Bonzer Measuring Thimble, the Bonzer Stainless Steel jigger offers two different-sized measuring thimbles at each end. An essential for any bar, the measuring jigger's multi-functional nature enables bar staff to perform tasks that would usually take longer swiftly and with ease. Produce drinks in minutes by utilising the versatile 20/40ml jigger thimble to create delicious cocktails or the 20ml/40ml which is a must-have for pouring a variety of sized drinks. Hospital Grade Stainless Steel, Lifetime Guarantee, 3 Ring authentic Bonzer design.
Bonzer first developed its barware back in the 1930s. Due to the brand's history in silverware, it was an obvious development. The first items off the production line proved to be a great success. With the original Hawthorne Strainers, Thimble Measures, Bar Spoons and Cocktail Shakers the brand was established and made its mark on the industry. A number of years on and with a heritage to be proud of Bonzer have revisited some of the classic tools. Having taken on board the feedback from professionals and evolved some of the designs and feel to give that classic Heritage quality and value.
Specifications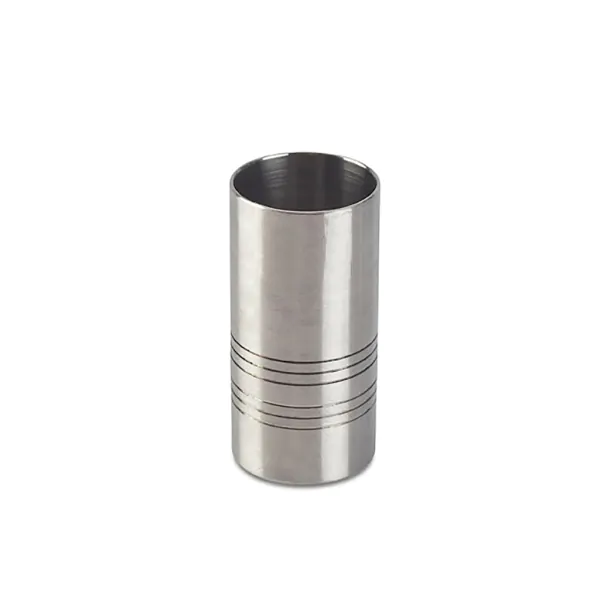 Brand Name

Bonzer

Product Group

Jigger

Primary Material

Stainless Steel

Capacity (ml)

40

Colour

Stainless Steel