Hospitality hygiene: Expert tips for ensuring customer standards are met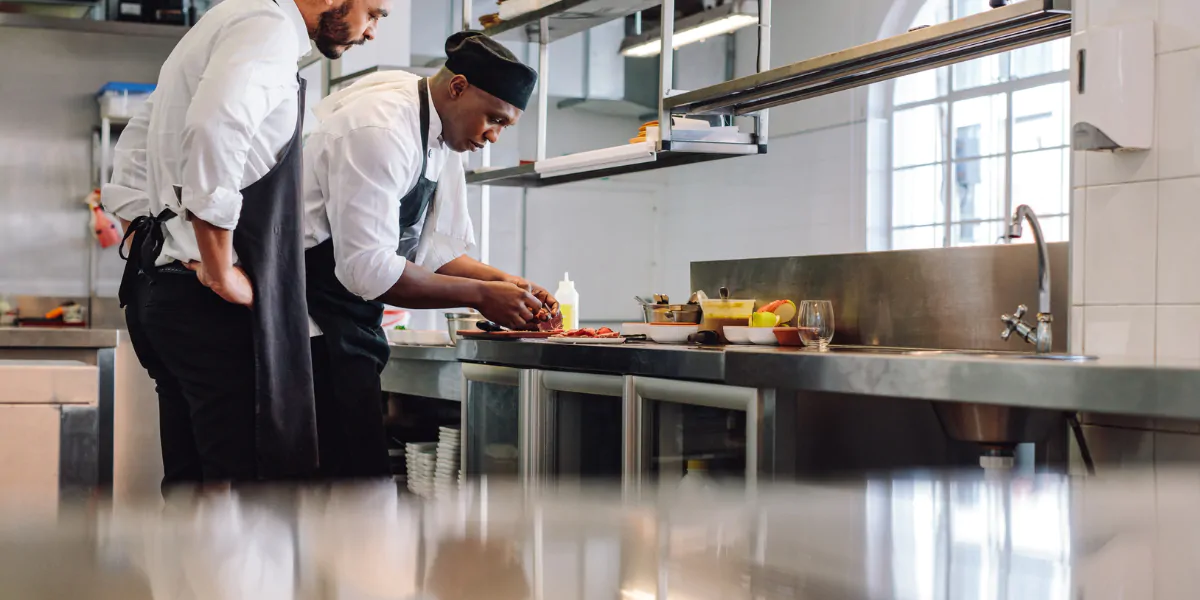 The cleanliness of your hospitality business is important not just for the dining experience, but for the safety of your customers too. In this article Guy Cooper, Managing Director of catering equipment supplier Mitchell & Cooper, shares his expert tips on meeting the hygiene standards of your customers.
There are a number of different factors which may attract customers to your hospitality business, from your menu to the atmosphere of your establishment. But whether they choose to dine with you can largely depend on the hygiene and cleanliness of your business.
Food hygiene is important for many consumers. In fact, a study conducted by Food Alert found that 63% of the surveyed consumers checked the Food Hygiene Rating of the last hospitality business they went to. Hygiene and cleanliness should clearly be a priority for any hospitality business owner, for both the safety of consumers and the reputation of their establishment. But how exactly can you ensure your business is up to your customer's expectations?
Read on for expert tips to hold your business to the highest standards.
Clean every part of the appliance
Wiping down your appliances is undoubtedly part of your daily cleaning routine, on top of washing the equipment after each use. But in order to meet the highest hygiene standards, you should ensure that you do regular deep cleans of each part of the appliance, including the hard-to-reach bits. While this may be a more intricate job as it can involve taking some appliances apart, thorough cleanings can both improve your kitchen cleanliness and expand the lifespan of your products, making it a worthwhile task.
If you find it difficult to clean every part of an appliance or piece of kitchenware, you may want to consider investing in an easier to clean model. Take bench top can openers, for instance. These commercial kitchen essentials are often a target for closer inspection by environmental health officers as they can be difficult to clean. To make sure you are able to clean the product as thoroughly as possible, you may want to opt for a bench top can opener with removable blades which can easily be taken off and rigorously washed for more regular cleaning.
Declutter your counters
With so many different pieces of kitchenware and appliances, it can become easy for even the most spacious commercial kitchens to feel cluttered, especially during busy shifts when it's all hands on deck. However, a cluttered kitchen can be much more difficult to clean as dirt can easily hide behind the countertop mess. This is especially important for restaurants and cafes with open kitchens, as a cluttered countertop can make customers believe that you don't value tidiness or cleanliness.
To avoid cluttered countertops getting in the way of your cleaning process, make sure that you have adequate storage solutions in your kitchen. Ensure that every appliance has a home and there is space to put dirty dishes during busy periods so the pot washer has time to catch up — you may find an extra clearing trolley comes in handy here. Another convenient storage solution that can also help you save on space is wall-mounted dispensers. These are especially useful for drinks preparation areas to prevent takeaway cups and lids from taking up too much counter space.
Choose the correct storage solutions and clean them regularly
Your storage solutions can help you keep your kitchen organised and free up space, but don't forget that these areas need thorough cleaning too. This goes for all your food storage zones, like fridges, freezers, and pantries, as well as your cookware and utensils storage solutions. Keeping these areas clean will reduce the risk of cross-contamination, plus it will help you keep a close eye on the use by dates of your food products.
It isn't just keeping your storage solutions clean which is important — you should also ensure that your food is stored correctly. Avoid overcrowding when it comes to storing your produce, especially in the fridge as this can reduce air circulation which can in turn raise the fridge's temperature. And don't forget the importance of storing your food off the floor to reduce the risk of pest infestation.
Make a list of easily missed cleaning tasks
There are some cleaning tasks in a kitchen that you simply can't forget, but it's easy for other jobs to slip under the radar. This is especially the case for cleaning tasks in hard to reach or out of the way areas. However, while they may be out if sight, these areas can still have an impact on the overall hygiene levels of your kitchen, so you should make sure that these chores aren't forgotten. The best way to do this is to make a checklist of the easily missed tasks so you don't forget to incorporate them in your next deep clean. This list could include tasks such as cleaning:
• The inside of tap faucets
• The back of freezers and fridges, and the wall and floor behind them
• Cooker hoods
• Knife blocks, racks, and sharpeners
• Straw holders and cup and lid dispensers
• The inside of kitchen bins
• Appliance filters
• High up surfaces, like the tops of cupboards
Make personal hygiene a priority
The hygiene of your hospitality business doesn't just fall on the cleanliness of your kitchen — the personal hygiene of your staff should be one of your top priorities too. As well as making your staff look professional, maintaining good personal hygiene can reduce the risk of bacteria spreading. You should make your personal hygiene standards clear from the offset, and you can provide regular training on personal hygiene in the workplace, including the importance of wearing protective clothing, wearing hair and beard nets, and removing nail varnish and accessories if working in the kitchen.
Although the task of maintaining good personal hygiene can only be controlled by your individual staff members, there are ways to make it easier for your staff to stay clean throughout their shift. For example, having plenty of hand soap and sanitiser dispensers will make it easier for your employees to clean their hands as often as necessary. And of course, don't forget to follow the guidance you provide strictly yourself to set an example for your chefs, waiters, waitresses, and front-of-house staff.
Prioritising the cleanliness of your commercial kitchen can make your hospitality business more appealing to consumers, make it easier to pass environmental health inspections, and most importantly, keep your customers safe. Use the expert tips above to ensure your business meets the highest hygiene standards.