Hot tips for Risotto Milanese in the Hotmixpro by Hayden Groves

Mitchell & Cooper's recipe development team recently approached Hayden Groves, former National Chef of The Year to ask if he would cook his fabulous Risotto Milanese in the Hotmix PRO.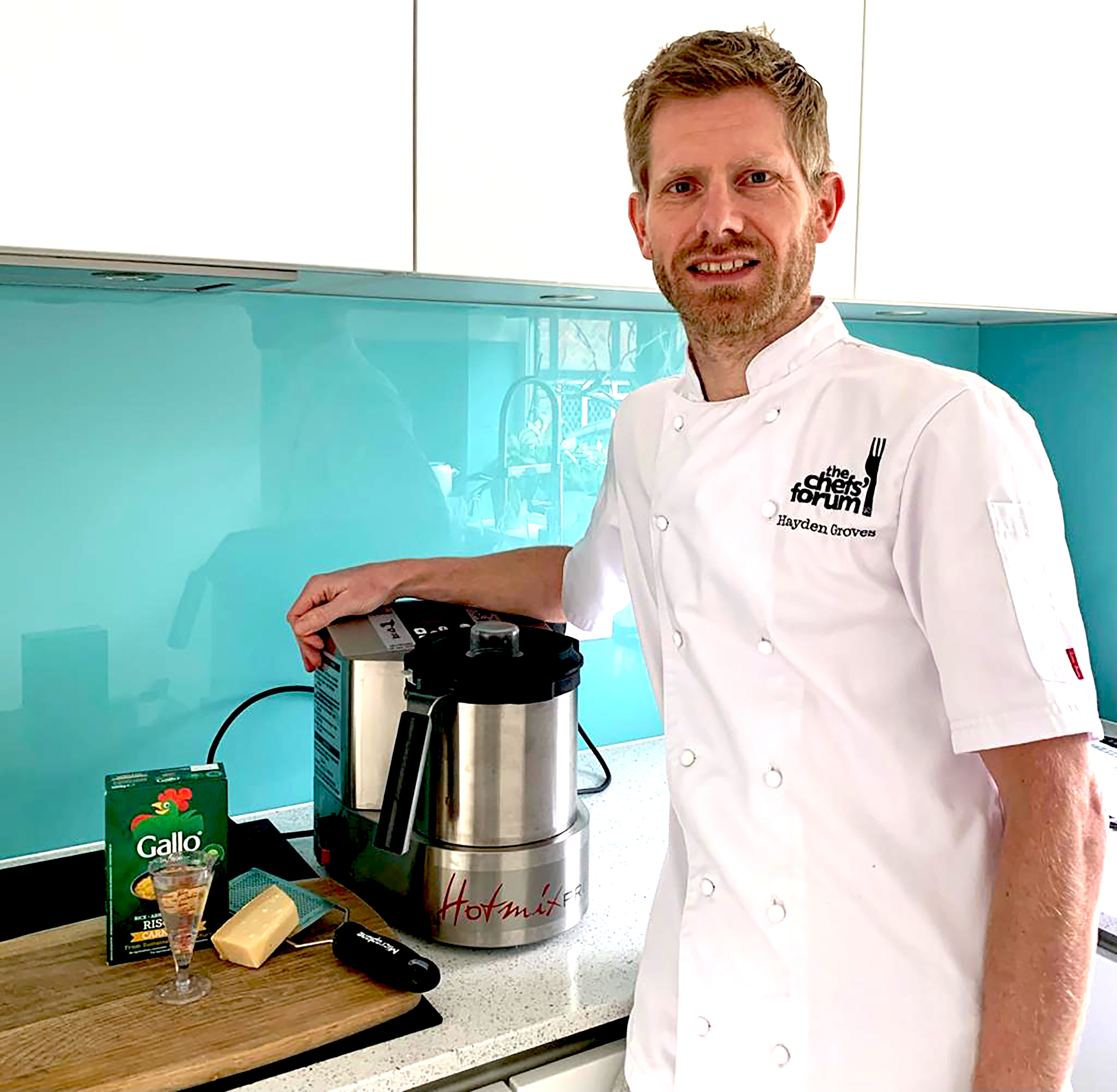 Mitchell & Cooper is the UK distributor of Hotmix Pro and has a whole roadshow planned for this fantastic machine with pre-set steps for a beautiful Risotto, adding the wine, before the stock.
Thanks to the perfect temperature control, degree by degree, chefs will be able to cook any kind of food, without the risk of burning your recipe.
Hayden Groves is an English chef and amateur cyclist. He is the author of the Cure Leukaemia Charity Cookbook, Back in the Saddle and won the title of National Chef of the Year in 2013.
Hayden's Risotto Milanese recipe features in his book and is a celebration of fabulous Italian produce from Milan in the Lombardy region of Italy – A gastronomic hotspot!
Risotto Milanese would normally be served with the traditional dish of Osso Bucco, a delicious speciality of Lombard cuisine of cross-cut shanks of veal shanks, braised with white wine and broth.  It is often garnished with gremolata and serve that he discovered on his journey though Italy, gathering recipes for his book.
It is also delicious as a dish on its own and Hayden was very impressed with the pre-set recipe for risotto, he said
"Due to lockdown, I've been trialling the Hotmix PRO at home for the last few weeks, very impressed by the solid and powerful nature it really is built with the needs of the professional kitchen and chef in mind. I used one of the pre-set recipes and was very impressed by the Risotto in particular, creamy texture and the rice still had that right amount of al dente bite."
Check out Hayden's Risotto Milanese recipe, together with a bonus second recipe for Creamed Polenta garnished with mushrooms.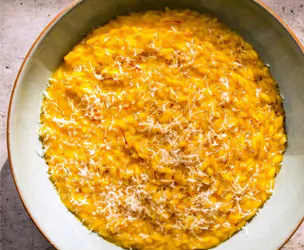 RISOTTO MILANESE
INGREDIENTS
• 30g Onion
• 50g Butter
• 250g Carnaroli rice
• Pinch of salt
• 75ml dry white wine with 1g saffron strands soaked in (this was my addition to the recipe)
• 1 litre Hot Vegetable or chicken stock
Finish with
• 50g butter
• 50g parmesan
METHOD
Follow Pre set machine method and steps for a beautiful Risotto, adding the wine, before the stock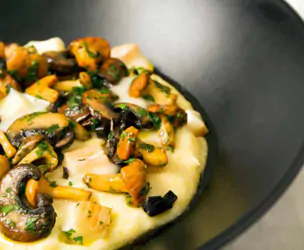 CREAMED POLENTA
INGREDIENTS
• 85g Coarse Polenta
• 400ml Milk
• 400ml Chicken or vegetable stock,
• 1 bay leaf
• Garlic clove
• 50g Parmesan
• 50g Butter
• Seasoning
 METHOD
Love this method as its super smooth and none of that hard work of stirring, and you avoid the risk of getting burnt as the yellow bubbling mass splutters
• Scald the milk and stock with the bay leaf and the garlic clove
• Strain the bay and garlic clove and Cook with the coarse polenta in the Hotmix PRO for 20 minutes @ 200RPM, 95°c
• Next stage speed 3, pulse setting 95°c for a further 5 minutes
• Finish with the butter and parmesan on speed 4 for 15 seconds
• Serve as a side dish.