Improve Customer Satisfaction With Improved Menu Consistency!

From school cafeterias to fine dining restaurants, maintaining consistent food portions is extremely important both for a reduction in waste, increase in profit and most importantly consistency for the customer.
Many diners opt for chain restaurants because they know exactly what they are going to get before they walk through the door, due to a previous visit or review. The chains achieve this through meticulous portion control and understanding of their diners and menu. There is no reason these principles cannot be followed by every kitchen.
More is not always best!
Customers are becoming increasingly aware of reducing waste within their own lives and that counts for food. Finishing everything on your plate becomes engrained in us as children and often leads to overeating in restaurants, not ordering starters or desserts and generally moaning all the way to bed. Chefs that get the balance right will see more orders from across the menu and satisfied customers going home with a smile on their face.
The second big trend is, of course, calorie counting and rightly or wrongly the customer's obsession with choosing the perceived healthy option whether for themselves or others on the end of an Instagram story. Images of correctly portioned food on a plate will receive far more airtime than a mountain of food piled high on a seemingly undersized plate.
Below are some examples of meals prepared with Bonzer Portioners to ensure consistency within the menu.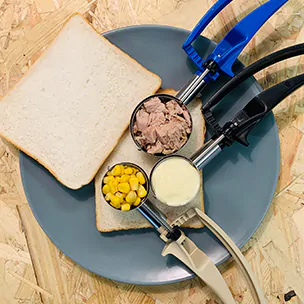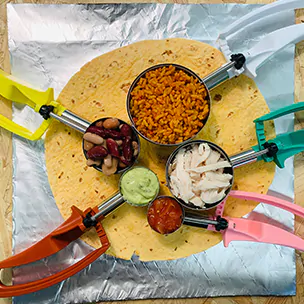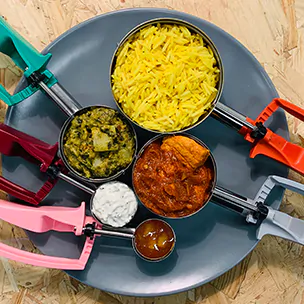 How do you achieve consistency?
Portion control not only refers to the amount of food on a plate, but it can also refer to the amount of ingredients in a particular dish. The use of Bonzer portioners will enable the chef to achieve consistency within both. With 17 different colour coded sizes available menus can be designed with accuracy and easily edited if a rise in unfinished plates are recorded.
The table below gives examples of the size range and types of food, suitable for every portioner size. Depending on the restaurant style, customer and type of cuisine these ideas of course can be adjusted to suit your menu.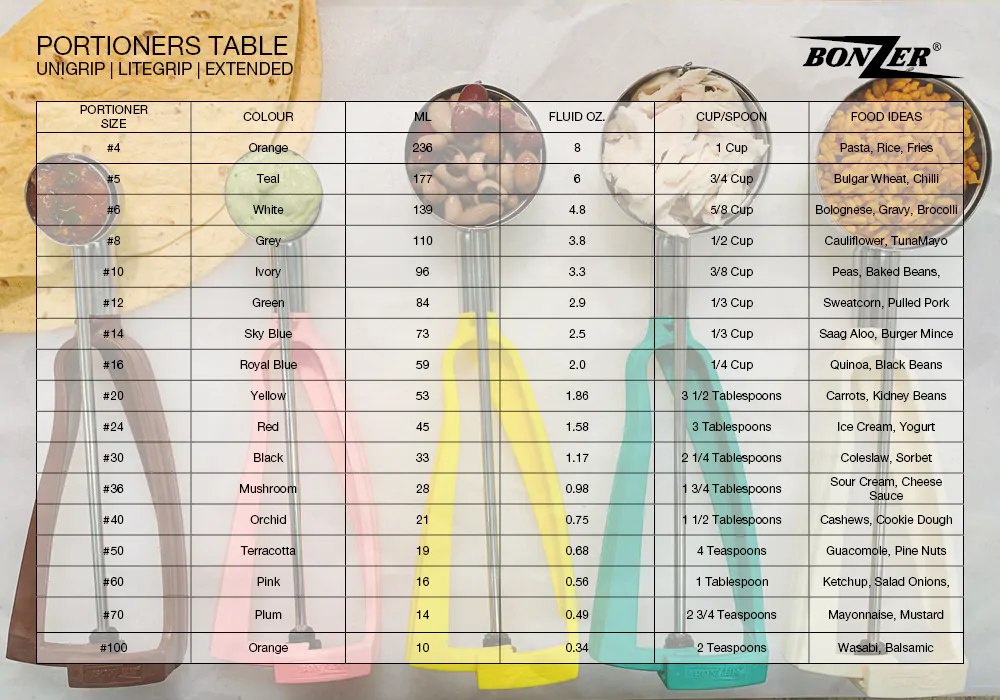 Bonzer Portioner Features and Benefits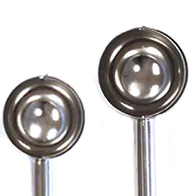 Length
The portioners are available in two tube lengths, standard (35mm) and extended (70mm). The extended models are designed to reach easily into deep gastronorm (steam pans) containers.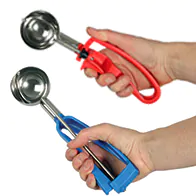 Choice of handle design
Choose from two handle designs (Unigrip and Litegrip). Each is designed with user preference in mind. The squeeze operation on the Unigrip is generated from the thumb. On the Litegrip it is generated from the palm of the users hand.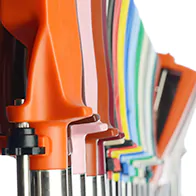 Colour coded
All handles are coloured coded for different sizes, making it easier to quickly identify the correct size for use, e.g. if a dish requires 45ml use the red portioner.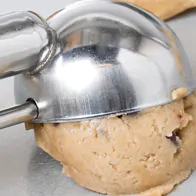 Menu planning
Both customers and operators can benefit from the consistency portion control brings. Customers can see that they have good value for money from the portion size while operators can accurately measure their costs and therefore their profits.