Food processor vs blender: A commercial buying guide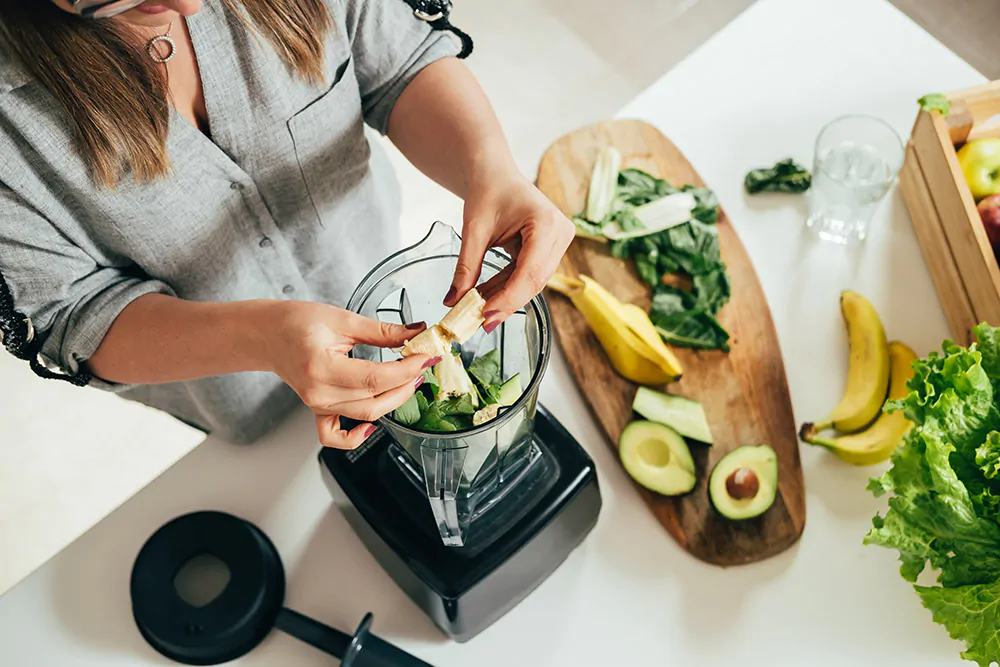 Whether you run a café, restaurant, or any other form of catering company, you'll no doubt find that commercial food processors and blenders are essential appliances for your professional kitchen. From dicing and shredding vegetables to mixing the perfect smoothies, these versatile tools will save your chefs plenty of time and effort to get on with crafting the perfect dishes. But with so many different types of blenders and processors on the market for professional kitchens, finding the right fit for your business may seem like a challenge.
To help make the buying process easier for you, we've put together this handy guide to help you compare commercial blenders and food processors so you can choose the perfect one for your professional kitchen. Read on to find out more about the following:
What is the difference between a food processor and a blender?
While they look like they do a similar job, there are actually a number of differences between food processors and blenders. The main difference between the two is that food processors are most often used for chopping, slicing, shredding, and emulsifying, where as benders can be used for mixing, liquefying, and crushing. Blender jars are also usually taller and narrower, designed to make it easy to pour liquid out of them. Food processors on the other hand have wider bowls, and are sometimes shorter than blenders, depending on their capacity. This can make it easier to add extra ingredients in the bowl if needed.
When it comes to blades, blenders come with just one standard blade fixed at the bottom, whereas food processors can come with different types of blades for different jobs, such as chopping, grinding, and emulsifying. Blender blades usually come in a standard X-shape, and although there is only one blade, they can still do a variety of jobs with this.
The table below gives you a run down of a few different types of foods and drinks you can make with each, and which appliance works best:
| | | |
| --- | --- | --- |
| Food | Food processor | Blender |
| Soups | - | X |
| Smoothies/milkshakes | - | X |
| Frozen drinks | - | X |
| Grated cheese | X | - |
| Crushed nuts | X | - |
| Ground meat | X | - |
| Chopped/sliced vegetables | X | X |
| Dressings | X | X |
| Sauces and dips | Best for chunky dips/sauces | Best for smooth dips/sauces |


When it comes to choosing a blender vs food processor, the chances are that for a medium to large catering business, you'll need at least one of each to make your chef's jobs easier. However, this may not always be the case. For example, if you're primarily a drinks business such as a coffee shop or bar, you may just require a blender.
Next, we'll discuss in more detail what you can use a food processor and blender for to help you find the perfect addition for your business.
What are food processors used for?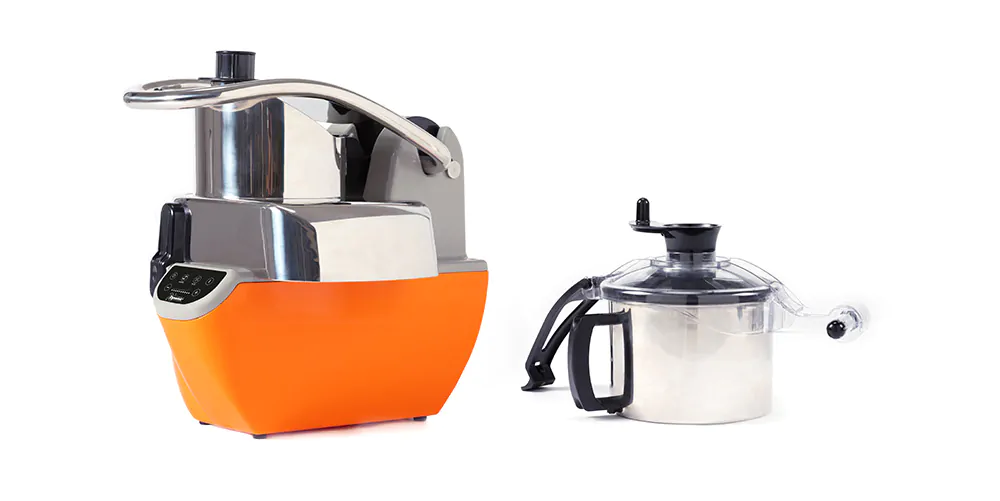 You can use a food processor for a variety of different dishes, making it one of the most versatile appliances for your professional kitchen. They can come with a selection of attachments which allow them to do a wide range of jobs, such as whisking blades, shredding blades, and milling blades. But the best thing about commercial food processors is that they can do so much without these additions. The standard knife blade alone (also known as the multi-purpose blade) can be used for mincing, mixing, chopping, kneading, and pureeing. This allows chefs to use the processor several times while making a dish without having to switch from attachment to attachment.
Using food processors for tasks such as grating, chopping, grinding, and emulsifying doesn't just make the job of your chefs easier, but it allows them the time to get more creative. After all, these tasks can easily be done by an appliance in a fraction of the time, whereas creating the perfect balance of flavours and experimenting can only be done by human culinary experts.
Now you know what they can do, it's time to discover how to find the best professional food processor for your culinary business.
Which food processor should you buy for your business?
When it comes to buying a food processor for a professional kitchen, you'll no doubt be looking for a heavy-duty option. The best commercial grade food processors will be built to withstand the pressures and demands of your busy kitchen. Although they won't be as affordable as household options, investing in a long-lasting commercial processor will save your business money in the long run.
It's also important to consider the capacity when investing in a food processor. Even smaller businesses will benefit from an appliance with a generous-sized bowl. A large household food processor will have around a two-litre capacity bowl, so you'll likely want to go for at least double that. Five to five and a half litres (with an operating capacity from around four to four and a half litres) is a good rule of thumb, providing your chef's capacity without taking over the whole kitchen.
Another factor to consider when buying a commercial food processor is efficiency. To save your staff the most time while using the appliance, smart and simple is usually best. Opt for an easy to set up processor which comes with an intuitive operating system so it can fit into your chef's kitchen routine seamlessly. To save them even more time, choosing a machine with dishwasher-proof parts is also a good idea.
The Dynamic food processor and vegetable slicer on offer at Mitchell & Cooper does all of the above, making it a great option for many businesses. As well as having a generous capacity and being easy to operate, the appliance comes with a scraper arm to help your chefs get as much of the mixture out as possible to reduce waste. The processor also comes with a transparent lid and allows you to add ingredients while in operation to save staff time and effort.
What is a blender used for?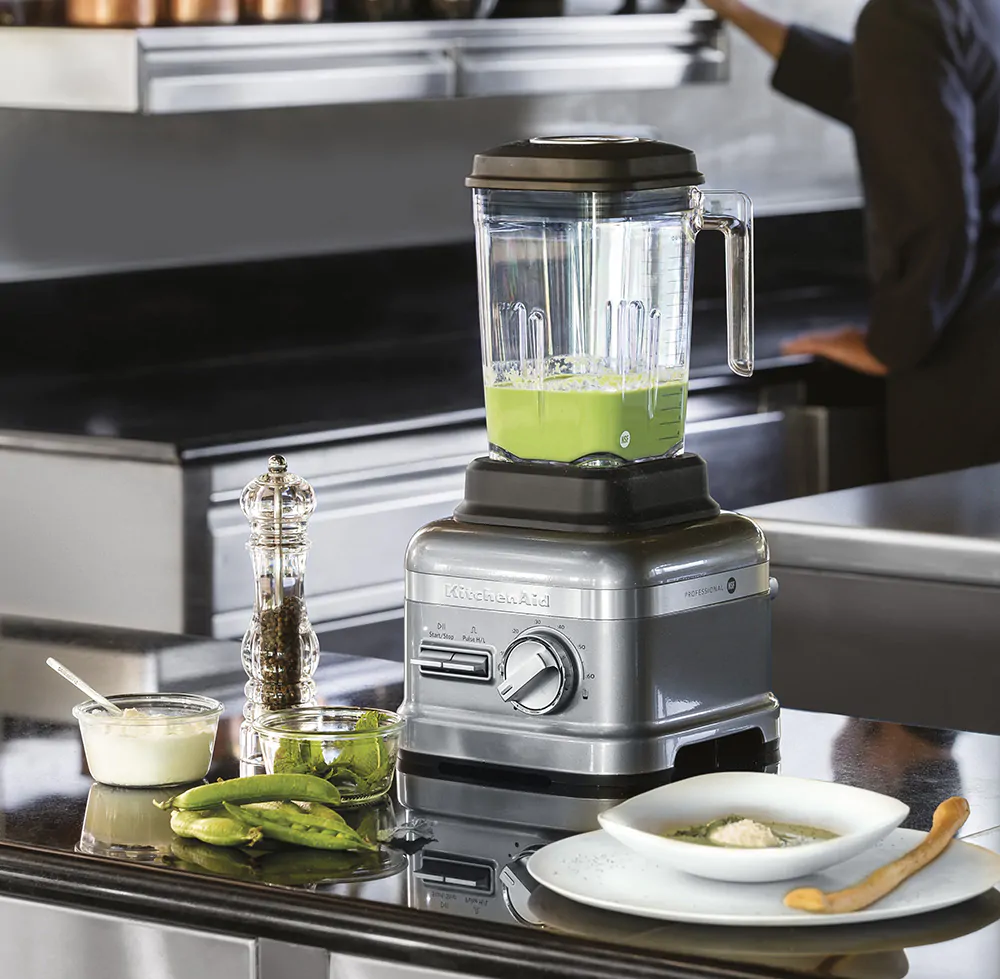 While most often associated with just smoothies and milkshakes, a blender is actually a particularly versatile tool and a staple for many professional kitchens. As well as being able to create a selection of delicious drinks, the appliance is perfect for making sauces, soups, and dressings. While they shouldn't be used for kneading dough or chopping vegetables like a food processor, blenders perform essential tasks which simply cannot be done effectively by hand, making it an important addition to your kitchen.
If you already own or are interested in setting up a bar, a commercial grade blender is essential. As well as creating blended cocktails and mixing them thoroughly to give them the perfect flavour, blenders can be used to crush ice and make frozen cocktails to enhance your summer menu. But with so many commercial blender types on the market, it can be difficult to know which is the one you're looking for.
Types of blenders
There are three main different types of blenders on the market for professional kitchens, each with their own benefits. When most people think of blenders, their minds go to the classic countertop blender. This type has a base with the control panel on, and a jug with sharp blades at the bottom which holds and blends the ingredients, as well as a lid which sometimes comes with an ingredient measuring cap. Many people have these in their homes, but the commercial grade countertop blenders are much more powerful and designed to withstand very regular use.
Another popular type of blender is the stick blender, also known as an immersion blender. Most commonly used for soups and sauces, this handheld appliance can be used to blend food in pots quickly and conveniently. We have a whole guide on commercial stick blenders, so give it a read to find out more of the benefits.
If you're looking for an appliance to help you cook, mix, and blend all in one place, a thermal blender is a great option for you. Also known as a thermal mixer, these handy kitchen tools allow your chefs to prepare both hot and frozen food, including but not limited to doughs, jams, sauces, and more. You can find out more about how they work with our guide on how a thermal blender can benefit your baking.
What is the best blender for your business?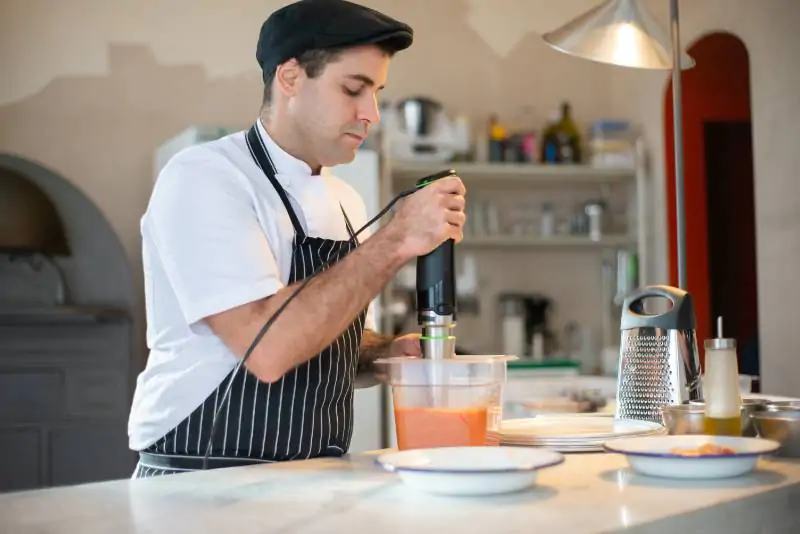 When it comes to buying a blender for your professional kitchen, the best qualities to look out for are similar to the ones you'll be looking for in a commercial food processor. For any busy catering business, durability and reliability is key. So, you should always opt for an appliance designed for commercial kitchens rather than household alternatives, which aren't built to withstand very heavy use. Capacity is an important consideration for countertop blenders as well. For a countertop blender you should look for an option around 1.5 litres or above, whereas with stick blenders you will find commercial options which can blend anything from 1–40 litres at a time. And just like choosing the right food processor, a blender with dishwasher-proof components is great for saving your staff time and effort.
When choosing the speediest blender to get your dishes and drinks to customers as quickly as possible, you'll need to focus on horsepower (HP), as this is what allows blenders to be more powerful, and therefore more efficient. In our collection we stock a Kitchenaid Professional Power Blender with an impressive 3.5 peak HP motor, which should easily be powerful enough for your business. This countertop blender also comes with a detachable power cord for your convenience.
Of course, the new commercial blender you choose will largely depend on the food and drink you're planning on using it for most often. To help you find the right one for you, here are the best blender types for some of the most commonly blended foods and drinks.
Best commercial blender for smoothies and milkshakes
Commercial countertop blenders are the best option for smoothies and milkshakes. As well as being a quick and easy way to blend the drinks, they also come in jugs which usually have pouring spouts, making it easier to serve them up quickly. Many commercial countertop blenders are over 1.5 litres, so your bar staff will have enough capacity to make a few portions at a time. And even for thicker smoothies or milkshakes, a blender tamper will allow you to push the bulky ingredients to the blade while in use to help you get that perfectly smooth texture every time.
Best commercial blender for frozen drinks
Just like with smoothies and milkshakes, commercial countertop blenders are best for making frozen drinks. You should always make sure your chosen blender is capable of blending ice. A lot of household variations aren't powerful enough to do so, which is why it's always best for professionals to opt for a commercial blender. Fortunately, you can use ice in the majority of commercial countertop blenders, but always check the user manual to make sure you're aware of any limitations. When using frozen ingredients in a blender, it's best to add these items last as it helps having a little liquid already in the jug when it comes to blending them.
Best commercial blender for soups and sauces
Usually, the best blender types for soups and sauces are stick blenders. These professional kitchen staple ingredients are usually made in bulk, and as commercial stick blenders can blend 40 litres at a time, you will likely be able to blend the whole pot in one go. Using an immersion blender also means you can mix it in the pot it's been prepared in without having to go to the effort of pouring it into a countertop blender.
Should you get a blender and a food processor?
Buying these two products for commercial businesses can be a big ask, especially for smaller catering companies. Depending on the type of business you have, it may not even be necessary to have both. For example, if your restaurant doesn't have an expansive drinks menu, then a food processor will likely have all the tools you need. And vice versa, if you own a bar with a small and simple food menu and you don't plan on expanding, investing in a new blender for drinks alone will likely be enough for your business.
Of course, both commercial blenders and food processors do important jobs. Despite their similarities, they are distinct in the textures they create and the foods they can prepare. If you do choose to invest in both, it's always a better idea to invest in durable appliances designed for commercial businesses rather than household alternatives so you and your staff can enjoy your new purchase for the years ahead.
After reading this guide, you should know more about the difference between these two appliances to help you figure out which blender and/or food processor is best for your business. We have a selection of blenders and food processors to browse from reliable catering brands such as Dynamic and KitchenAid, so make sure to browse the collection we have in stock today.
Looking for even more catering appliances? We stock a selection of options designed for commercial kitchens, including gelato machines, smokers, and stand mixers, as well as cookware, kitchenware, and storage and handling equipment.
And if you're still searching for advice on buying the best equipment for your catering business, make sure to check out the rest of our blogs and guides for advice on finding the right stand mixer, can opener, portion control tools, and more.