Opening a bakery: The ultimate guide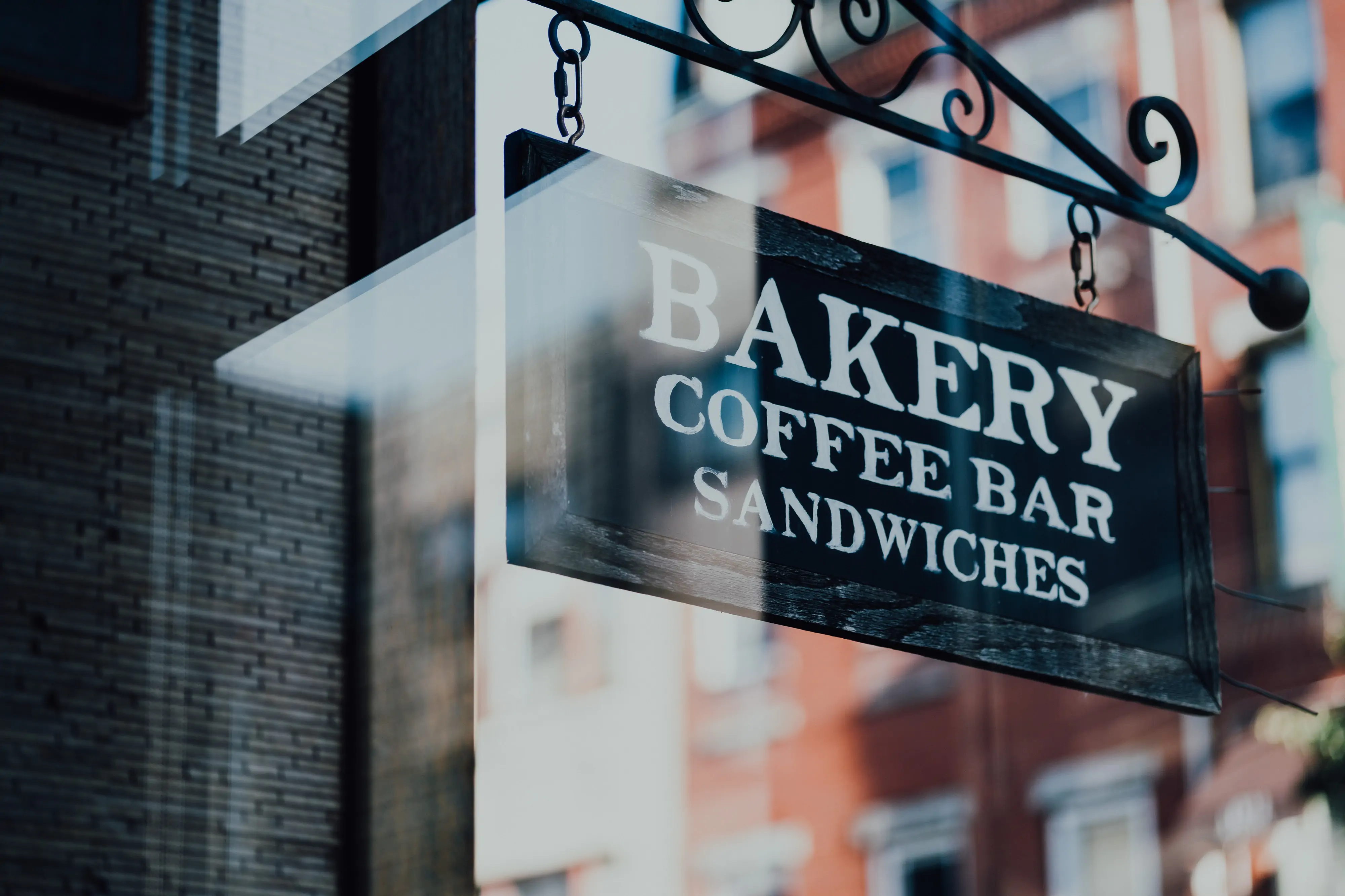 If you're a connoisseur of cakes and a real whizz in the kitchen, then opening a bakery may be the best way for you to turn your passion into a profitable business. In fact, according to IBIS, the UK's bread and bakery industry grew to a whopping £8.24 billion in 2022. However, turning these dreams into a reality can often feel a little overwhelming, and this is one of the reasons why many small businesses struggle to get off the ground.
So, to help you get started, we've put together the ultimate guide on how to start a bakery business. Below, we'll take you through all the essentials for opening a bakery and give you expert advice on making your small business stand out from the crowd. We'll explain how to:
Do your research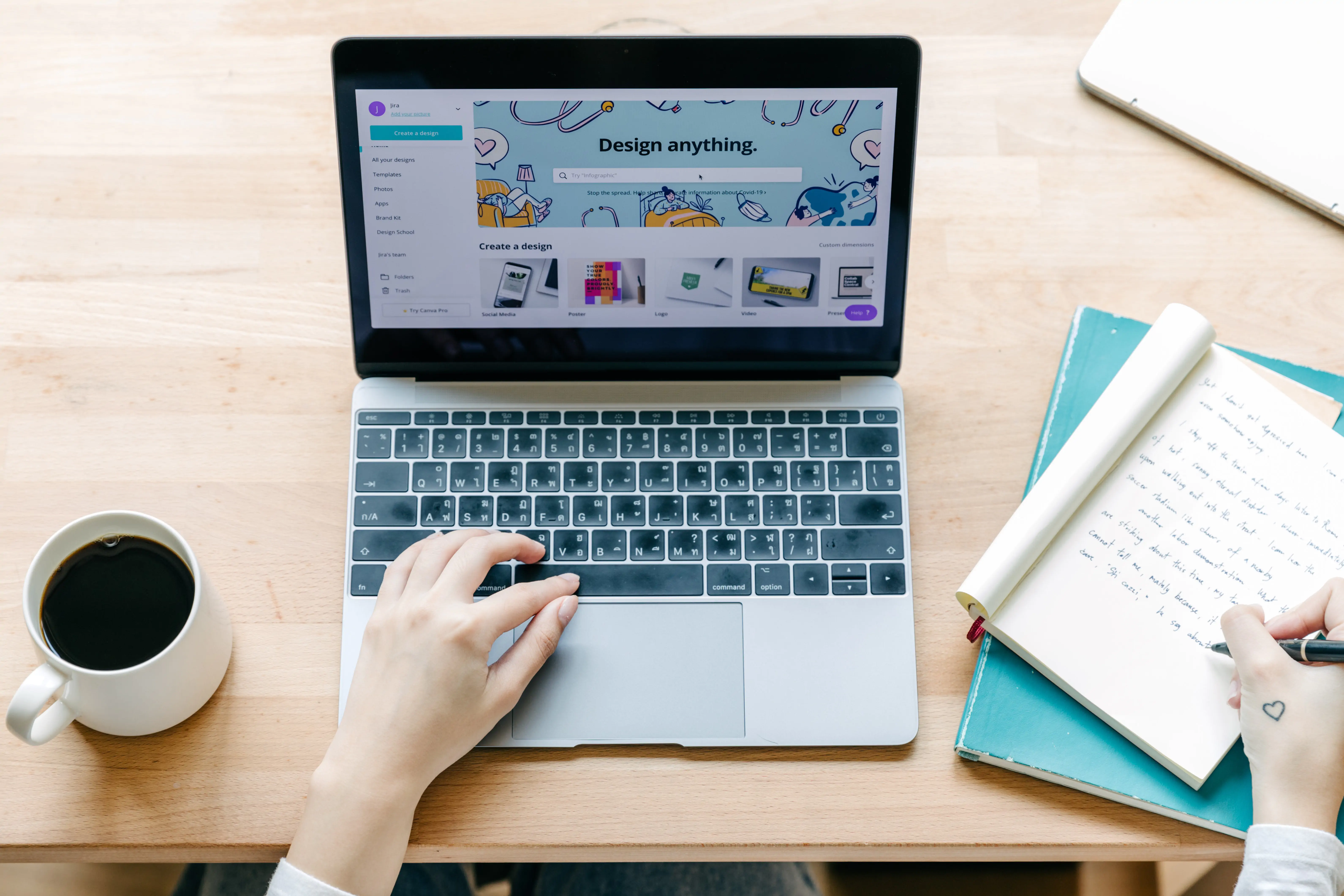 When you're considering how to start a bakery business, it can all feel a little overwhelming. Before you can get stuck into making your delicious baked goods, you'll first need to make sure all the official documents, permits, and licences are in place to open a small business in the UK. From start-up costs to market research, here's how to get started on all the important stuff.
How much does it cost to start a bakery?
Bakery start-up costs include rent, energy bills, staff wages, kitchen appliances, and licensing fees, but they will vary greatly depending on where you decide to open your business. For example, rent on a commercial unit will vary hugely between smaller towns and capital cities. So, if you're not solely relying on personal investment to fund your new venture, you first need to secure a small business loan. You can apply for a Government Start-up Loan or contact your bank and get a quote on the small business loans they offer.
Secondly, anywhere that sells food needs to complete a food business registration. However, you may not know that if you plan to handle meat, fish, eggs, or dairy onsite (as most bakeries do), you'll also need to apply for food premises approval and get an inspection from your local council. Again, costs will vary according to the size and scale of your bakery, but on average, it's best to set aside around £500–£1,000 to cover a business license and any legalities that may come along with this.
You must register your business at least 28 days before you start trading in accordance with UK law, so be sure to do this with plenty of time. As you'll most likely be self-employed, remember to notify HMRC so you'll be allocated into the correct tax bracket. If you're operating a retail bakery, you'll also need to invest in a till and/or POS (Point of Sale) system, which can cost anything from £150 to around £700, depending on the model.

Conduct market research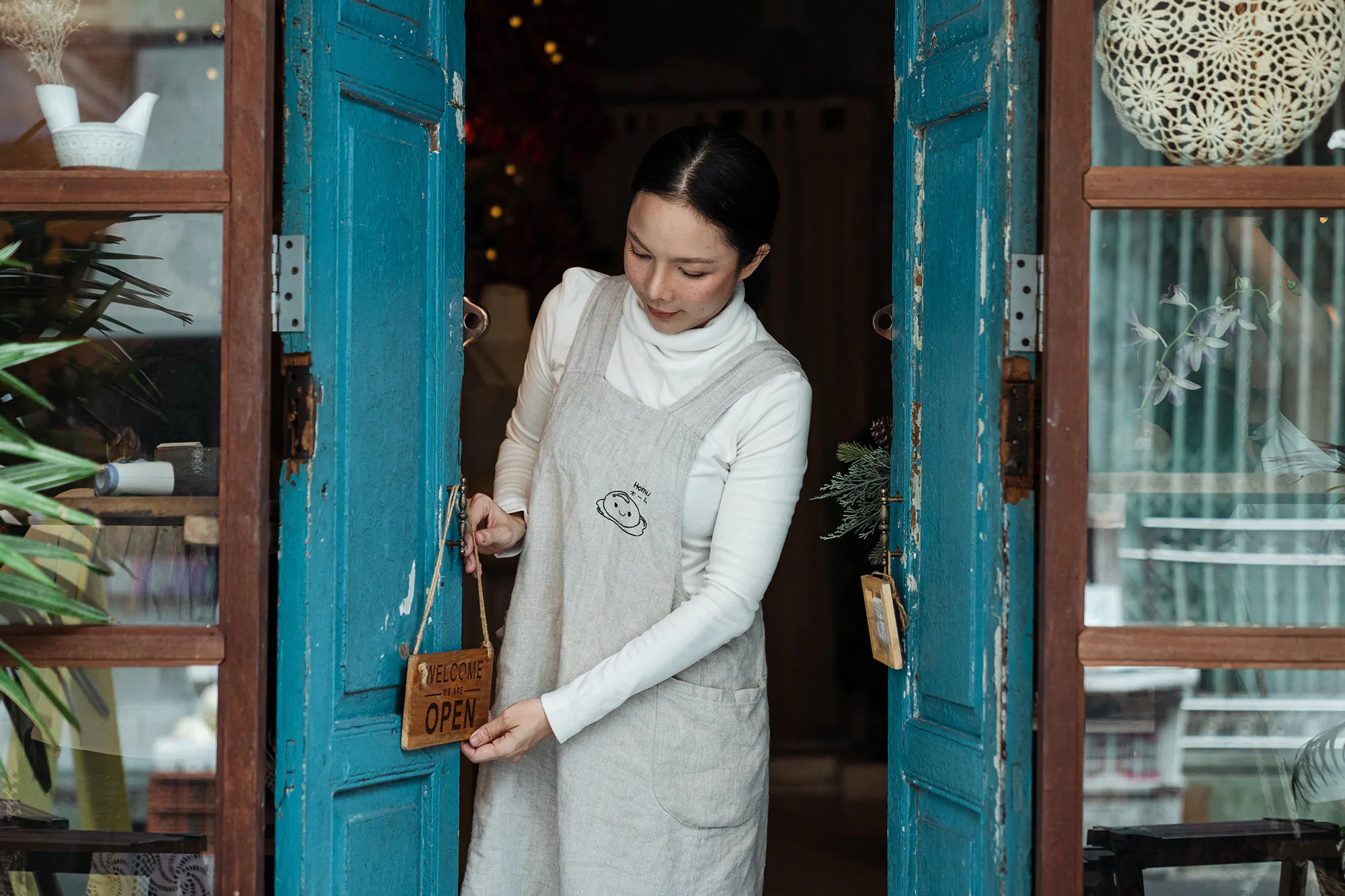 Market research involves reading up on the local business scene and finding out what kind of establishment your area is lacking — or alternatively, what competition you could be up against. Knowing this will influence every step of your business plan, from helping you find a store location to deciding the whole direction of your bakery.
If your market research shows that you will face competition in your chosen location, then a great way to differentiate a small business is by creating a USP. A Unique Selling Point will help you stand out from the crowd, and ideally, will help your bakery fill a gap in the market. For example, if customer reviews of existing bakeries in the area reveal a lack of vegan or gluten-free options, you may decide to open an entirely vegan or gluten-free bakery so that everyone can enjoy delicious baked goods, no matter their dietary requirements.
You can also make the most of your surroundings to create a USP, such as your bakery having a great view of local landmarks, being the only one that makes pet-friendly treats, or having a sustainable focus like only using locally sourced ingredients.
Make a business plan

As well as forecasting profits, costs, and securing funding, a large part of your business plan should focus on the kind of bakery you're going to open. This will dictate everything from your outgoings to the location you choose, so it's important to decide this from the very beginning rather than trying to plan too far ahead with a vague idea in mind. For example, you may decide to open a wholesale bakery which provides business-to-business services. This would include selling baked goods to shops, restaurants, catering companies, and any other businesses in the local area.
On the other hand, you may choose to be a retail bakery that sells directly to the customer. In this business model, more of your focus (and your budget) would go into creating a welcoming atmosphere through attractive display cases, menu boards, and extra pieces of equipment like a coffee machine. So, make sure you've firmly decided on the trajectory of your bakery in your business plan before doing anything else.

Find a location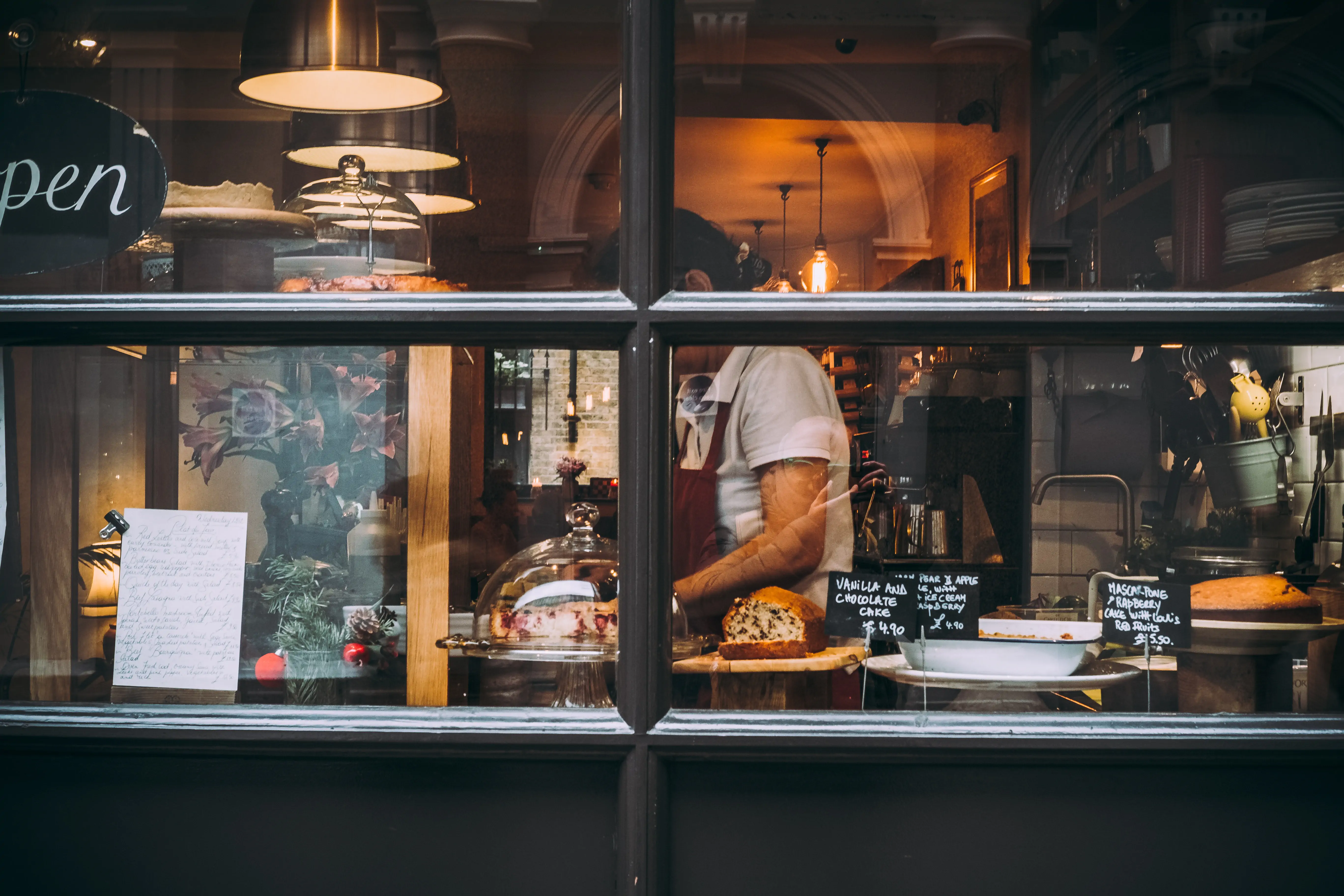 Obviously, you can't open a bakery without finding a building to operate from. Your market research will be a huge help in this stage of the process, as this will hopefully have shown you some of the most (and least) desirable sites in the local area. For instance, you'll know not to choose a street with multiple bakeries already in operation, and to avoid areas with high rent or mortgage rates until you start making solid profits. Remember, you can always move locations in the future — or maybe even expand!
Footfall and accessibility to your customers are of course two of the most important things to consider when choosing a building to buy or rent. If you plan to locate your bakery in an office district, you'll want to be within walking distance for customers to visit you on their lunch break. The same goes for high street locations — while they might be more competitively priced and sought after, they ultimately give you the highest amount of footfall to capitalise on busy days and hungry shoppers.
You should also consider how accessible the building will be for suppliers. Narrow streets or a lack of parking spaces can make morning deliveries difficult, which (in the worst-case scenario) could leave you without the ingredients you need to run your bakery. This is even more important if you're a wholesale bakery that will have frequent visits from other vendors. Of course, if you choose to operate from a mobile bakery van, you'll have much more flexibility in terms of location and accessibility.

Source bakery equipment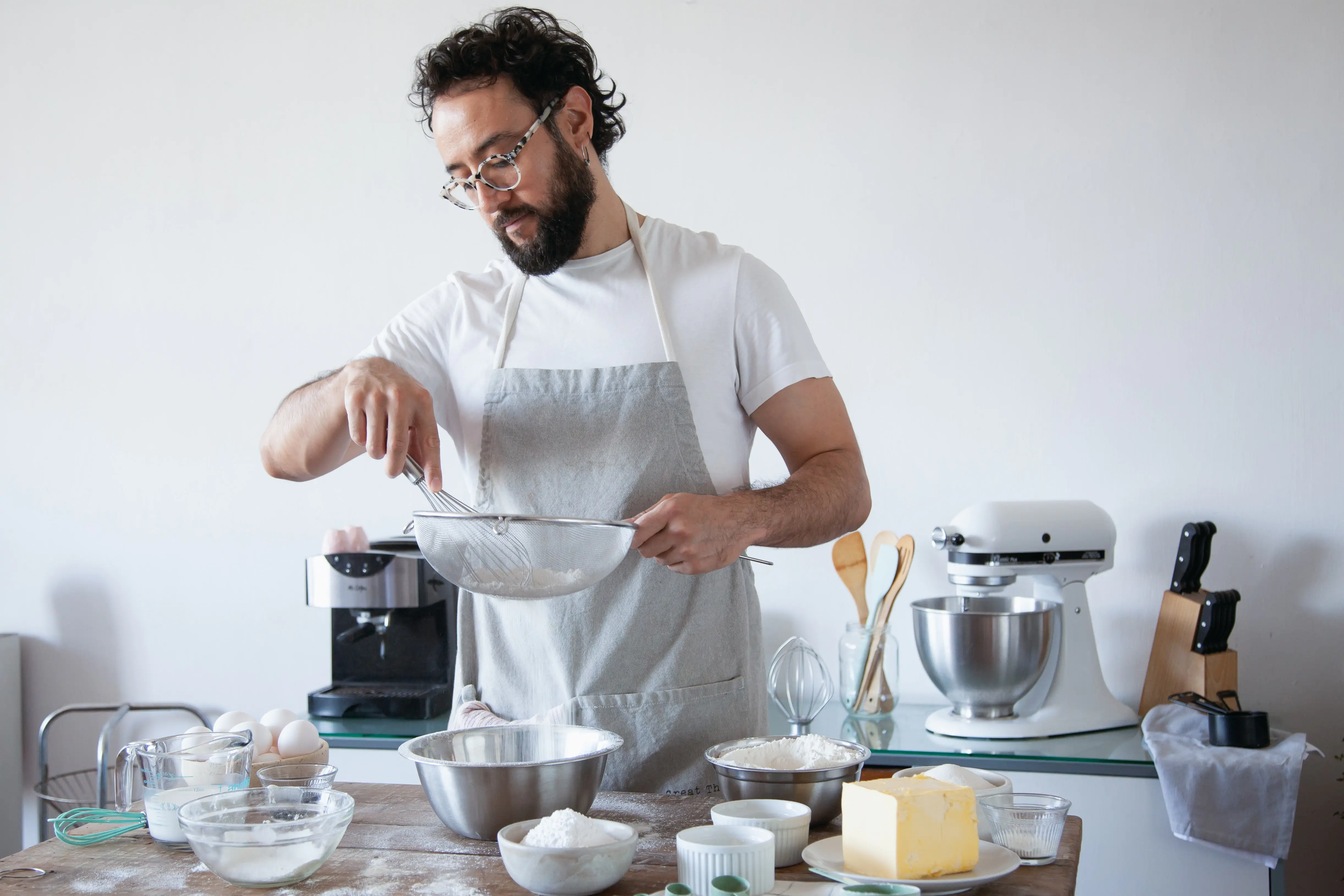 In the first days or weeks that your bakery is open, you don't want you or your staff to be short of equipment and end up making do with inadequate supplies. So, as well as ensuring that kitchen appliances like your fridge, dishwasher, and sink are all in working order, you'll need to make an exhaustive bakery equipment list. This way, well before you plan to open, you can prepare your kitchen with the best bakeware and cookware possible.
Investing in premium catering equipment might make a slight dent in your opening budget, but as a baker, you'll know that the right tools can make the world of difference to the finished product. So, making an investment in top-quality equipment is always worthwhile, as it will help to make your and your staff's lives easier in the long term. Here at Mitchell & Cooper, we stock baking essentials from catering experts you can trust, including Silikomart and iconic French brands Matfer and Bourgeat.
If you're writing up an inventory, here's our run-down of the equipment needed to start a bakery:
Electrical appliances such as stand mixers and food processors to make whipping, beating, and kneading a breeze and save tired arms!
Measuring equipment like digital scales, portion funnels, and measuring spoons to help you practice quality control and ensure perfect, professional-standard baked goods every time.
Preparation tools like stainless steel mixing bowls, whipping bowls, and sieves to make staple recipes including batter, dough, icing, and much more.
Bakeware essentials like baking trays, muffin trays, loaf tins, cooling racks, and silicone moulds to create uniform cakes, bread, or pies in the oven.
Decorating equipment such as piping bags, decorating spoons, and pastry rollers so you can create beautiful, picture-worthy baked goods that are ready for the display case.
Utensils and specialist pastry equipment like mixing spoons, rolling pins, dough scrapers, whisks, spatulas, and pastry brushes will help you and your staff get the job done perfectly every time.
You should also provide your employees with baking accessories like aprons and protective gloves to prevent any oven burns. Similarly, ensure that you stock your shelves and fridges with plenty of airtight ingredients containers to store any pre-mixed fillings, batters, or leftover baked goods to prevent as much waste as possible. With this list of essential bakery equipment, you'll be prepared for anything!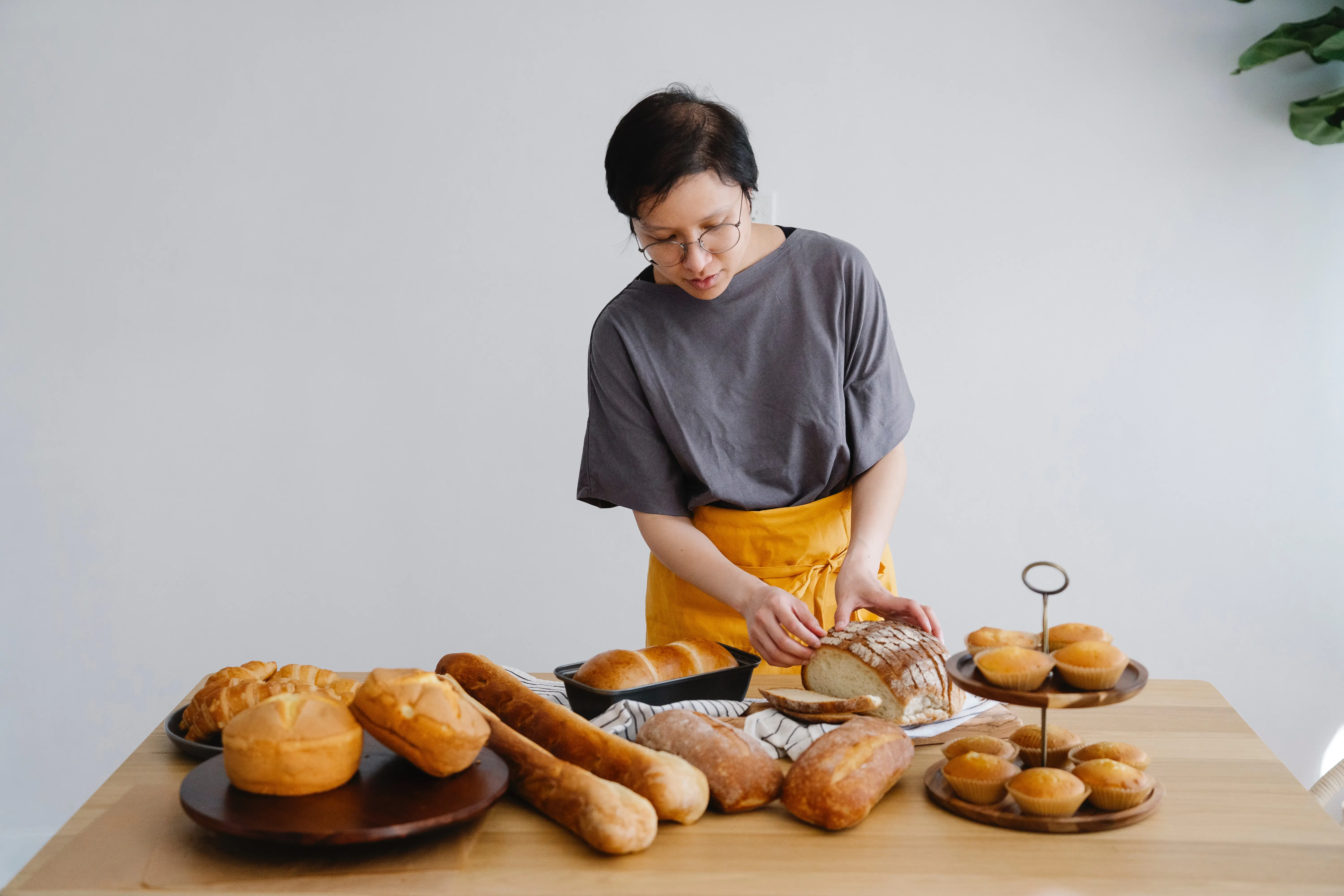 Before you start getting creative with special menu items (for instance, coming up with fun recipes for different holidays or seasons throughout the year), it's wise to establish a selection of high-quality classics when you open. This will help you build a customer base while you find your feet.
Anyone starting their own business tends to be highly ambitious, so, likely, you're already brimming with ideas for the menu. However, it's best to start by nailing all the classic recipes expected of a great bakery, whether it's the perfect loaf of sourdough or soft, buttery croissants. If you can start off strong by wowing new customers with the classics, then you'll feel much more confident as you go forward. Not only this, but you'll already have plenty to think about in your first few months as a business owner without coming up with something totally unique and elaborate for your menu.
Once you have a solid core menu and your bakery has opened smoothly, you can start the fun part of creating and testing new recipes. This can be a great opportunity to create your own USP that sets you apart from the competition in your local area. For example, if you make a certain kind of pastry that customers keep coming back for, it can become known as your signature dish. This is a great thing to capitalise on via your social media platforms, helping you to get the word about your growing bakery business.

Build an online presence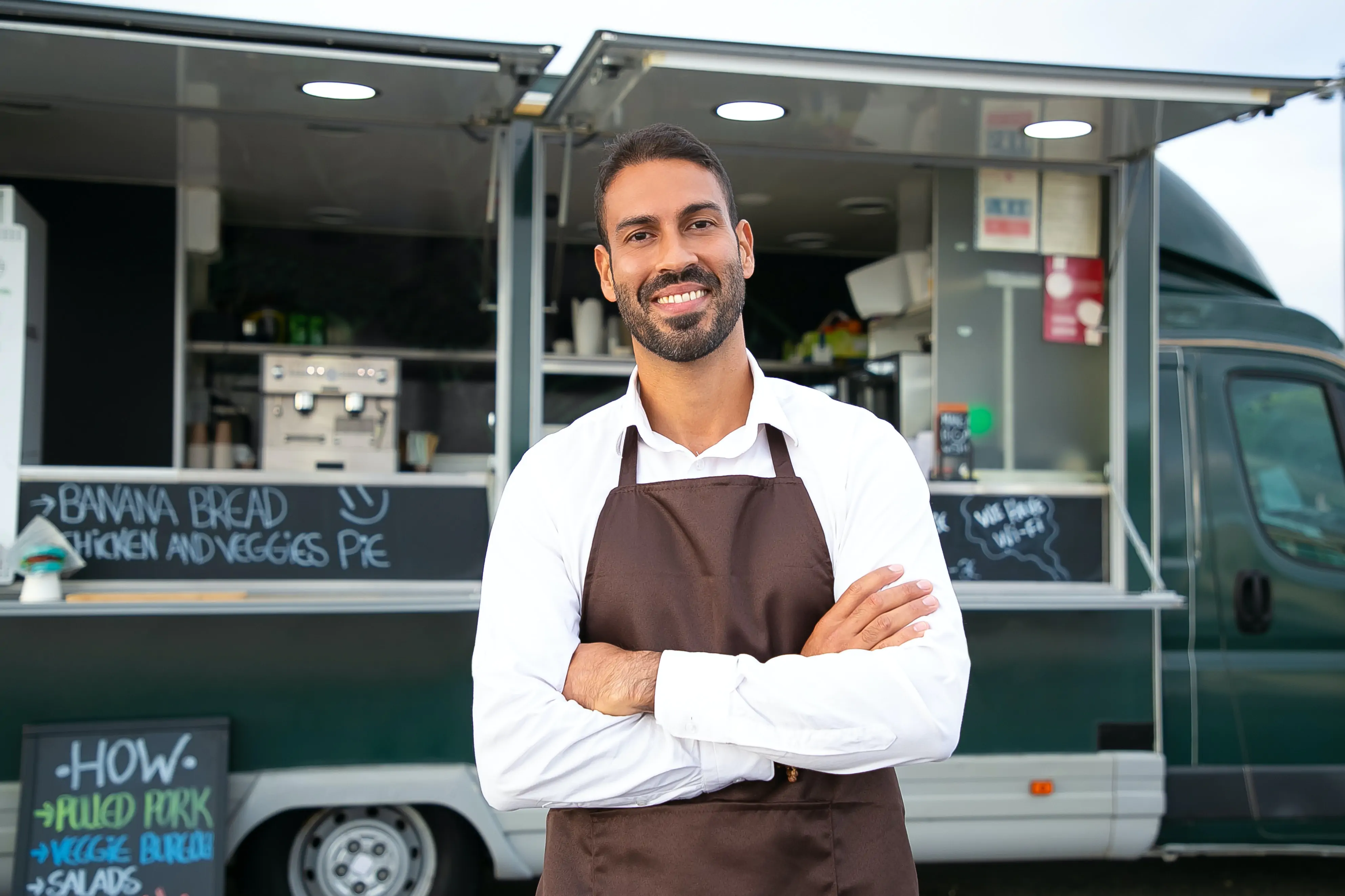 Social media has become the lifeblood of small businesses today, and you'll be pleased to know that by their very nature, bakeries lend themselves excellently to online platforms. So, as well as creating an attractive, user-friendly website for your business, it's definitely worth investing some time and money into your social media presence.
Firstly, no one can resist the look of delicious, freshly baked goods, meaning that posting photos of your latest creations is a great way to bring in hungry customers. If you've got a small staff base (or just want to have complete creative control), dedicate any spare time you have to photographing and sharing your products online. However, you could also promote one of your staff members to Social Media Manager and brief them on the kind of content you want to create. If there's any space in your budget, try to pay this employee a little extra on top of their usual wage to reward them fairly for their time.
As well as reeling customers in with your delicious food, social media is also key in letting small business owners portray the person behind the brand. You no doubt want your bakery to be a friendly, welcoming place where people come to buy pastries and their morning coffee, so any way you can convey this to potential customers will help. Most people in the local community will want to support a new independent business, and they're even more likely to when they know who the owner is. A great way to introduce yourself is via an 'About Me' section on your website or social media accounts where you can show the person behind it all.

Hire bakery staff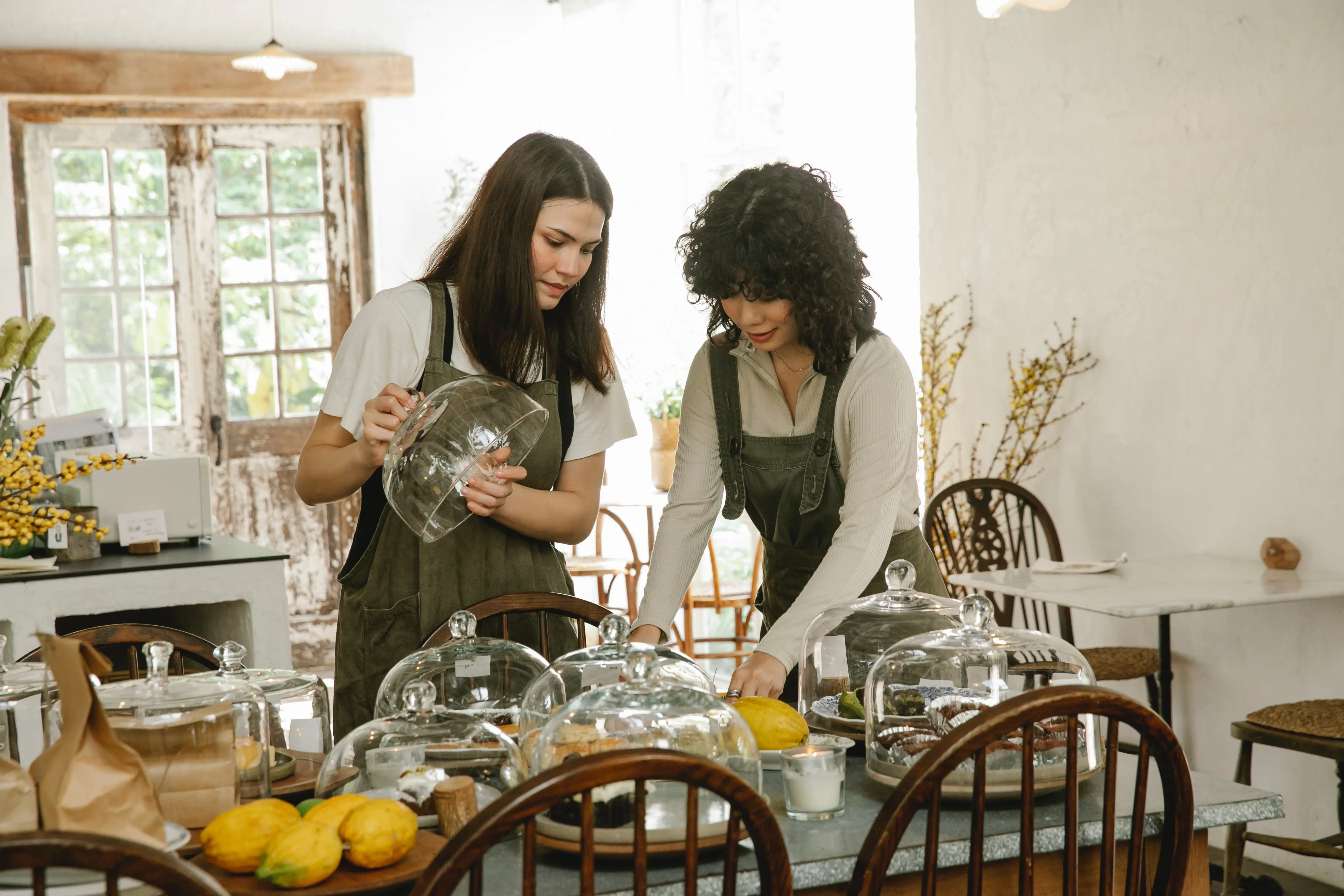 When starting your own small business, you're often making all the big decisions on your own. But one of the best parts about starting a bakery business is that you can build a team of staff members who are just as passionate and excited about this new venture as you. So, once you get your bakery up and running, it's time to start hiring.
The staff you need to hire will differ depending on your business model. For example, if you operate a café-bakery where customers can buy hot drinks with their baked goods, you may need to hire a trained barista and some wait staff to attend to your seating area. However, while a wholesale bakery may not need as much front-of-house staff, you'll need to hire experienced bakers who are familiar with production lines or factory operations. This ensures that you have an efficient, highly skilled team to consistently produce high-quality food behind the scenes.
We hope this guide has provided some valuable insight on how to open a bakery. If you're considering starting any other business in the hospitality industry, we also have a detailed checklist and guide for setting up a bar as well as a range of professional bar equipment from top brands like Bonzer.
Here you'll also find a huge selection of kitchen appliances, ranging from blenders and thermal mixers to food dehydrators and gelato machines. We work with household brands like KitchenAid, HotmixPRO, and Nemox to bring you top-quality catering equipment you know you can trust. For more up-to-date articles and guides, be sure to check out our blog.