Spillstop Pourer - Chrome Jetflow Pk 12 collar
Don't have an account?
Creating an account has many benefits: check out faster, keep more than one address, track orders and more.
Spillstop Pourer - Chrome Jetflow Pk 12 collar
Precision-engineered for spill-free pouring. Consistent portions, ergonomic design, and easy maintenance redefine pouring perfection. Elevate your drinks with every pour.
The Spill Stop Free Flow Tapered pourer is a well known favourite used for speed pouring. Optimising a poly cork with over hang for easy removal.Medium Speed, Chrome Plated, Pack of 12.
Introducing the Spill-Stop Pourer: Redefining Precision and Efficiency in Pouring Perfection!
Unlock a new level of pouring precision and spill-free elegance with the revolutionary Spill-Stop Pourer. Designed with bartenders, mixologists, and home enthusiasts in mind, this pourer reimagines the art of pouring liquids with unmatched accuracy and control.
Key Features:
1. No More Spills: Say goodbye to messy spills and over-pouring mishaps. The Spill-Stop Pourer's innovative design features a unique spout that ensures a controlled and consistent flow of liquid, preventing unnecessary wastage and keeping your bar area impeccably clean.
2. Consistent Portions: Achieve impeccable consistency in every pour. Whether you're crafting cocktails, measuring ingredients, or simply serving drinks, the Spill-Stop Pourer delivers the same amount of liquid with every use, allowing you to maintain the integrity of your recipes.
3. Precision Engineering: Crafted with precision-engineered materials, the Spill-Stop Pourer guarantees durability and longevity. Its sleek and streamlined design fits seamlessly onto most standard bottlenecks, making it a versatile addition to any bar or kitchen.
4. Ergonomic Comfort: Designed with ergonomics in mind, this pourer ensures comfortable handling for prolonged use. The easy-grip mechanism lets you control the flow effortlessly, enhancing your pouring experience and minimizing strain.
5. Hygienic Design: Hygiene is paramount, and the Spill-Stop Pourer delivers on that front. Its hygienic construction prevents cross-contamination and keeps your liquids pristine, maintaining the taste and quality of your beverages.
6. Effortless Maintenance: Cleaning up is hassle-free with the Spill-Stop Pourer. Its simple, detachable components are easy to clean and maintain, allowing you to focus more on perfecting your pours and less on maintenance.
Whether you're a professional bartender aiming for flawless drinks or a home enthusiast seeking to elevate your hosting game, the Spill-Stop Pourer is your trusted partner in achieving impeccable pouring precision. Join the ranks of those who demand perfection – embrace the Spill-Stop Pourer and pour with confidence like never before!
Specifications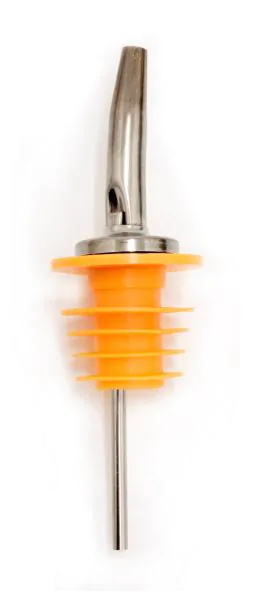 Brand Name

Spill-Stop

Product Group

Pourer Spout

Primary Material

Stainless Steel

Colour

Stainless Steel