Designing a drinks menu: Drinks and cocktail menu template and ideas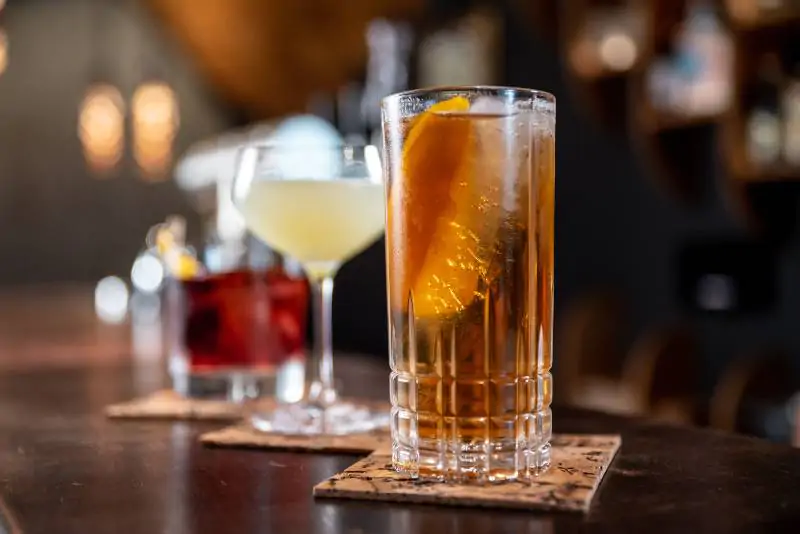 Creating a drinks menu for your bar or pub is more than just listing beverages. A well-thought-out drinks menu can boost sales, enhance customer experience, and set you apart from the competition. Plus, having a separate drinks list allows you more space on both your drink and food menus to ensure customers get plenty of choice without having to navigate a cramped and difficult-to-read menu.
In this guide, we'll explain how to make a drinks menu for a bar, from considering dietary restrictions and sustainability to your drinks menu design. We've also got a selection of cocktail menu ideas to enhance your offering, as well as a free customisable drink and cocktail menu template collection to make the design process a breeze. Whether you're setting up a brand new bar or simply looking to refresh your current menu, we've got the advice for you here.
Read on to find out more about the following: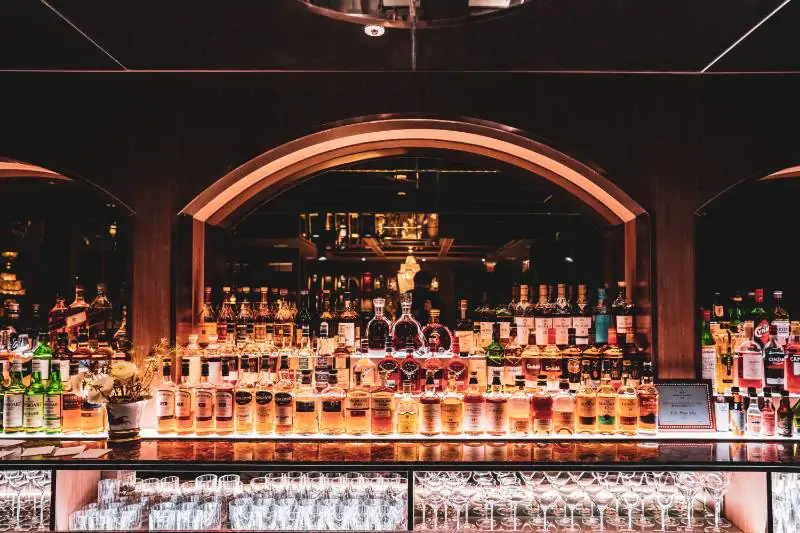 Before collating a list of your favourite drinks menu ideas, it's important to understand what you should take into account when serving drinks. Taking the below into consideration won't just enhance customer experience and attract more clientele, but it can have benefits for your business as a whole.
Dietary restrictions
In an era when dietary restrictions are becomeing increasingly prevalent, it's essential to cater to a diverse range of customer needs. When developing your drinks menu, take the following dietary considerations into account:
Vegan and vegetarian diets
While you may first assume that all drinks are naturally vegetarian, this is often not the case. Many wine and beer manufacturers use animal-derived fining agents in their products, such as fish oil, gelatine, chitin (from crustaceans), and isinglass (a fish-derived form of gelatine). Many cocktails also contain dairy products which aren't suitable for vegans. Ensure there is enough choice for those following a plant-based diet on your menu and clearly mark which dishes are suitable for vegans and vegetarians.
Diets relating to religion
It is important to consider all cultures and religions when creating a drinks list for your menu. In some religions alcohol is forbidden, so you should ensure you have plenty of alcohol-free options in your menu. In other religions, such as Judaism, alcohol is permitted but there are still some ingredients to avoid, including some forms of gelatine, types of dairy, and occasionally sparkling drinks.
Allergy-based restrictions
By law, you must make sure to have a detailed and comprehensive list of allergen information for each drink for customers to see upon request. However, for more common allergens, such as nuts or dairy, it's a good idea to make this clear on your standard drinks list, and also make clear which drinks are nut- or dairy-free. This transparency doesn't just build trust with customers but if you have plenty of options for those with allergies, it also shows that you have carefully considered and catered to their needs.
Low-calorie and low-sugar options
Having a selection of low-calorie and low-sugar options can be beneficial for a wide range of customers, from those who have to closely control blood sugar levels to simply more health-conscious consumers. A good option for these customers could be hard seltzers, which have grown in popularity in recent years. Many types are low in sugar and most cans come in at 100 calories or less.
Alcohol-free options
The trend towards reduced alcohol consumption has led to a growing demand for non-alcoholic alternatives. Incorporate alcohol-free cocktails (mocktails) and beverages like non-alcoholic beers and wine into your menu. This allows designated drivers, non-drinkers, and those simply looking for a break from alcohol to enjoy your establishment.
Sustainability
Sustainability is a critical consideration in the food and beverage industry. As well as reducing your establishment's carbon footprint, making a more sustainable menu may attract more customers as it has become a key consideration for many consumers. When rounding up your drink and cocktail menu ideas, think about sourcing sustainable ingredients and implementing eco-friendly practices, such as:
Whenever possible, use locally sourced fruits, herbs, and other ingredients. Supporting local farmers not only reduces your carbon footprint but also showcases your commitment to the community.
Rotate your menu seasonally to take advantage of the freshest ingredients. Seasonal cocktails and drinks are not only more environmentally friendly but also create anticipation among your regulars looking forward to a refreshed menu.
Consider offering organic wines, beers, and spirits, as well as products from distilleries and breweries with environmentally responsible practices.
You can find out more about sustainability in the hospitality industry by reading our sustainable restaurant guide.
Budget
Balancing your drinks menu to cater to different budget ranges is crucial for maximizing profitability and customer satisfaction, so try to include a mix of high-end and budget-friendly options. This diversity ensures that all your customers, from casual drinkers to connoisseurs, find something appealing within their budget. Another good way to appeal to consumers of all budgets is to implement happy hour specials or promotions to attract more customers during off-peak hours. This not only boosts sales but can also foster a sense of community and encourage repeat business.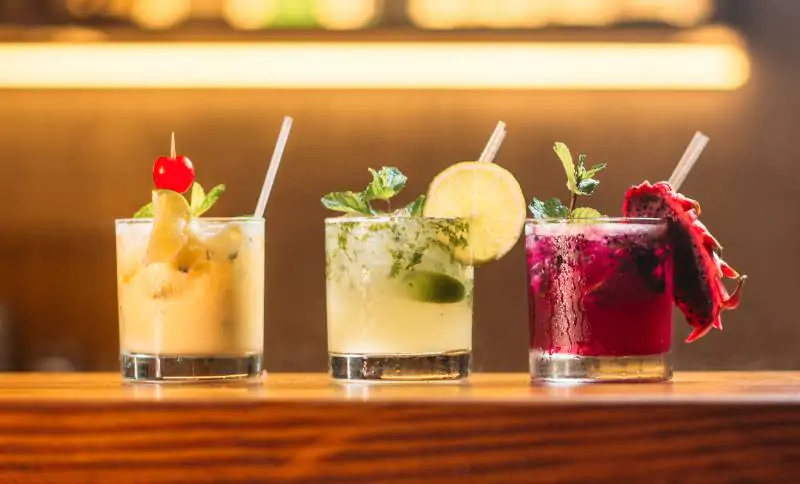 Whether you own a bar or a restaurant, a good cocktail selection can really enhance your drinks menu. Cocktails are becoming an increasingly popular choice among UK consumers, with record numbers enjoying the drinks in bars, pubs, and restaurants post-pandemic (The Guardian).
As well as attracting a wider pool of consumers, creating a cocktail menu is an exciting endeavour that allows you and your bartenders to showcase creativity. But which ones will make the best addition to your menu? Below we've rounded up some cocktail menu ideas and advice to help you craft the perfect list.
Choosing your cocktails: What to consider
When making a cocktail list for your menu, you may already have a number of ideas in mind. However, before diving straight in, it's a good idea to consider the following:
Customer profiles: Understanding your target audience is key to selecting the right cocktails. Consider the demographics and tastes of your patrons when choosing cocktails to include.
Balance: A mixture of classic and more contemporary, experimental options is best for attracting a wider group of customers.
Trends: Stay current with cocktail trends. Research what's popular in the industry and among your customer base. Making craft cocktails inspired by current trends is a great way to capture the attention of cocktail enthusiasts.
Seasonal options: Consider the availability of ingredients when designing your cocktail menu. Using fresh, high-quality ingredients is crucial for creating top-notch cocktails. Make seasonal cocktail menus to reflect the changing seasons and ingredients.
Exclusive ingredients: Consider incorporating unique, exclusive ingredients that set your cocktails apart. This could include house-made syrups, infusions, or locally sourced components.
Presentation: Cocktail presentation matters just as much as taste. Try to experiment with garnishes that not only enhance flavour but also provide an eye-catching visual element. Fresh herbs, edible flowers, or creatively cut fruit can all make a difference. You can also use a dehydrator to make long-lasting garnishes.
Alcohol-free options: Don't forget to add a mocktail selection to your menu to appeal to an even wider audience.
Classic options
The most well-known cocktails are classic for a reason: they're timeless and undeniably delicious tried and tested recipes. Even if you're looking to have a more unique and experimental menu, a selection of classic cocktails is important as it will no doubt appeal to those who may be new to drinking cocktails. Below are some of the most popular and well-known classic cocktails you may want to add to your menu:
| | | | | |
| --- | --- | --- | --- | --- |
| Vodka-based | Rum-based | Gin-based | Whisky-based | Tequila-based |
| Cosmopolitan | Mojito | Tom Collins | Old fashioned | Margarita |
| Sex on the beach | Cuba Libre | Gin fizz | Whisky sour | Tequila sunrise |
| Screwdriver | Piña colada | Singapore sling | Highball | Paloma |
| Martini | Daiquiri | Aviation | Mint julep | Tequila sour |
| Bloody Mary | Rum punch | Negroni | Hot toddy | Mexican mule |
If you're looking to add even more choice to your cocktail menu, you can offer some of these cocktails with twists. This is becoming increasingly common in the drink industry and is a great way to add more variety to your menu. Mojitos and daiquiris can be made with a variety of flavours, such as pineapple, strawberry, and raspberry. And if you're looking to offer something cool in the summer months, you may want to offer frozen margaritas.
The great thing about cocktails is that many of them can easily be turned into mocktails by simply omitting the spirit. If you're looking to make the drink more authentic, you may want to add an alcohol-free spirit to your mocktail recipes.
Designing a signature cocktail
Classic cocktails are an important part of any drinks menu, but if you're looking to add a USP to your drinks list, a signature cocktail could be just what you need. A signature cocktail can become the hallmark of your bar, restaurant, or pub, making it a must-visit destination. Follow these steps to create a unique and unforgettable signature cocktail:
1. Start by determining the flavour profile you want your signature cocktail to have. Consider whether it should be sweet, sour, bitter, fruity, or savoury.
2. Choose a base spirit that aligns with the flavour profile. Some of the most popular and versatile options include vodka, gin, rum, tequila, and whisky. Remember you can use a non-alcoholic base for mocktails too.
3. Identify one or more unique ingredients that set your signature cocktail apart. This could be a rare fruit, a homemade infusion, or one of your own syrups.
4. Give your signature cocktail an enticing name that reflects its character or the theme of your establishment. Consider the presentation, garnishes, and glassware to make it visually appealing.
5. Experiment with different recipes and variations of your signature cocktail. You can ask for feedback from staff and regular customers to refine the recipe and presentation.
6. Once your signature cocktail is perfected, make sure to promote it. Highlight its uniqueness and offer special promotions or events centred around it.
Crafting your cocktails
To ensure your cocktails look and taste as good as they appear on the menu, it's important to craft them with care by using the best cocktail equipment. Not only will this make the job easier for your bartenders, but the right equipment can really enhance the flavour of your drinks. For instance, muddlers are ideal for making the most out of fresh ingredients by releasing their flavours, and a good quality cocktail strainer will ensure you get the perfect consistency for your drink every time. Garnish tools can also help you enhance the appearance of your drinks. You can find out more about the equipment you need with our guide on cocktail essentials.
Choosing beer and wine for your drinks menu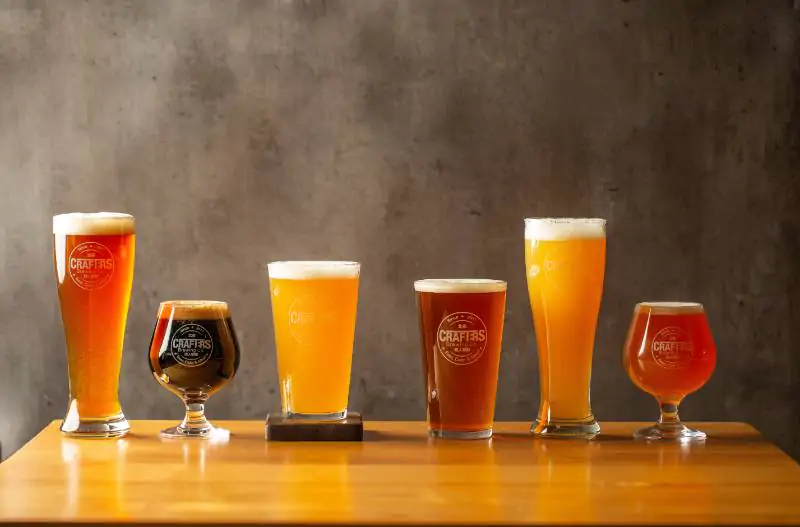 A varied cocktail menu is important for many bars, but your drinks selection wouldn't be complete without an array of beers and wines. Making a well-curated wine and beer list for your drinks menu won't just attract new customers but potentially set you aside from the competition, especially if you have some unique and less well-known beverages on offer. Below we've rounded up some tips on how to choose the best wines and beers for your menu.
Variety
A diverse selection of wines and beers will help you appeal to as wide a range of customers as possible. For your wine list, you should include a variety of reds, whites, and rosés. You may also want to add one or two varieties of orange wine, as this is becoming increasingly popular among consumers. You should also include options from different regions and grape varieties to cater to various palates.
Offer a variety of beer styles as well, including lagers, ales, stouts, and IPAs. This ensures there's something for every beer drinker. Consider featuring a selection of craft beers, which have gained immense popularity in recent years. Include both local and international craft options to cater to enthusiasts. And of course, alcohol-free beers and wines are sure to help.
Local options
There are so many benefits to choosing a selection of locally produced beers and wine when creating the drinks list for your menu. Doing so will mean your business is supporting the local economy, supporting other local businesses, and potentially reducing your carbon footprint as your drinks may have less distance to travel.
From a customer point of view, local breweries and wineries often experiment with unique ingredients and methods, resulting in distinctive flavour profiles that set them apart from mass-produced alternatives. Offering these beverages allows your customers to enjoy flavours that can't be found in many mainstream options. Collaborating with local breweries and wineries can lead to exciting partnership opportunities too. You can host special events, tastings, or brewery or winery tours.
Seasonal varieties
While you will likely have a wide selection of permanent menu items, you may want to rotate some of your beverages seasonally to highlight seasonal and limited-edition drinks. Not only does this keep your menu fresh and make sure you always have a selection of the best products, but it also encourages customers to return to try new offerings.
Pairings
If you have a food menu in your establishment, you may want to make sure you have wines or beers in stock to complement a selection of your most popular dishes. A great drink paired with a delicious meal can enhance the dining experience, plus it can encourage customers to explore your drinks list and choose a menu item they may not previously have considered. To enhance the customer experience even further, you may want to consider investing in staff training to ensure your team can recommend wine and beer pairings. Knowledgeable staff can both boost sales and make customers confident in their menu choices.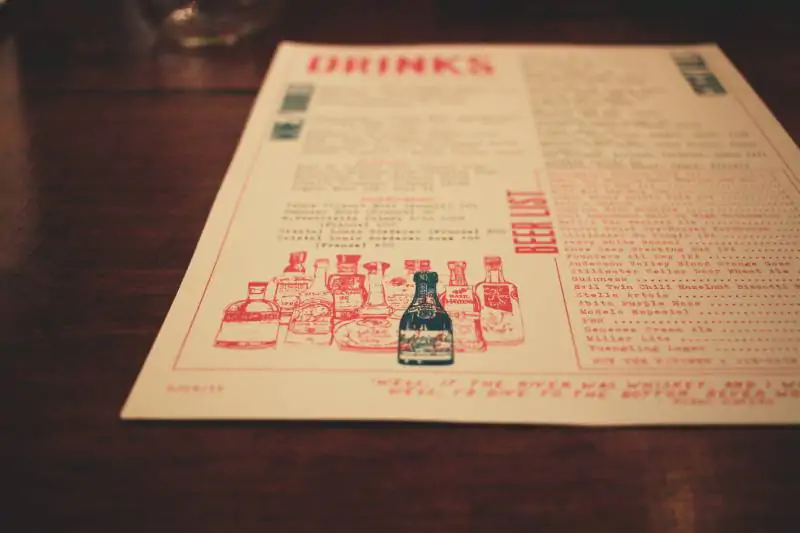 Once you've finalised the drinks list for your menu, the final step is working on your menu design. A menu is often the first thing customers see when they enter a bar or pub or browse the website. A well-designed menu can create a positive first impression and set the tone for the customer's experience. Below we've rounded up some tips on designing your drinks menu.
Determine your theme and concept
Your menu is an extension of your bar's, pub's, or restaurant's brand and identity. It should align with your business' theme, style, and overall image to ensure consistency in design and reinforces brand recognition. Consider the theme of your establishment, whether it's classic, retro, or more modern and trendy, and design a drinks menu to align with this. You can use fonts, colours, and imagery to reflect this concept.
Categorising your offerings
Divide your menu into clear categories. Common categories include cocktails, beers, wines, and non-alcoholic options. Organising your menu clearly like this will make it much easier for customers to find what they're looking for. You also may want to avoid overwhelming customers with too many choices. While a variety of drinks is important, a concise menu with quality options is often more appealing than an incredibly extensive one.
Highlight signature drinks
If you have a section of signature cocktails, make sure you set these apart in your menu design. Detailed descriptions can convey what makes these drinks special and encourage customers to try something new. You can also highlight them by putting a border around them or displaying them with a brighter pop of colour to make the section more eye-catching.
Provide descriptions
Just like food descriptions on a menu can make diners excited about their meal, drink descriptions can create anticipation and excitement about the beverage choices. Well-crafted descriptions can evoke flavours and aromas, making the experience more immersive. Include brief but enticing descriptions for each drink. Mention key ingredients, flavours, and any unique preparation methods to help customers make informed choices.
Emphasize local offerings
If you have a selection of local beverages, make sure that customers know about them with your menu design. Supporting local businesses is a consumer trend that has risen in popularity in recent years, so showing customers that you have a local selection of drinks may greatly appeal to them. You may also want to include more information about the winery, brewery, or distillery the drink is from to tell more of a story with your menu.
Drink and cocktail menu templates
If you're looking for a straightforward way to make your drinks list come to life with a menu, why not use our drinks menu templates? We have both a cocktail menu template and a wine and beer list template to make menu design a breeze. Our Google Docs templates are fully customisable allowing you to tailor them to your business, as well as make it easier to implement smaller seasonal menu changes. To use one of our drink templates, simply click on your chosen template, click the "use template button" in the top right corner of your screen, and make them your own by customising them with Google Docs.
Crafting a drinks menu for your bar, pub, or restaurant is an important task that requires careful consideration. If created with care, a new menu can have a great impact on your business. With the bar menu ideas and advice above, you should be able to create a drinks list and menu that both your regulars and new customers will love.
To help your customers enjoy your new drinks menu to the fullest, ensure you have the highest quality serving equipment by browsing our choice of essential bar products. From cocktail kits and spirit measures to bar appliances and wine and bar accessories, we've got the products you need to serve premium quality drinks in this collection.