Autumn is here and with it comes an abundance of fabulous seasonal products that make for the most delicious of culinary delights.
But why stop at food? Mitchell & Cooper, creators of the iconic Bonzer cocktail equipment line, a firm favourite of mixologists all over the world, would like to share their top tips on bringing an autumnal vibe to your drinks.
Use autumnal spices
When we think of autumn, many of our minds are drawn to the taste of delicious seasonal spices. You'll often find them in seasonal sweet treats like cakes and biscuits, as well as in autumnal hot drinks like the classic pumpkin spice latte. Fortunately many of these flavours work well in cocktails too, so you shouldn't find it difficult to include seasonal flavours.
A few of the key ingredients you can look out for are:
Cinnamon: This flavour pairs perfectly with apple and will work great with a variety of spirits, especially whisky. e.g. - Apostol Cocktail
Nutmeg: If you're looking for an addition to a creamy autumnal cocktail, nutmeg is the perfect addition. Try using it in a recipe with an Irish cream liqueur. e.g. Tom & Jerry Cocktail
Ginger: Looking for something with a kick? Use this seasonal spice to make a variety of drinks, including a ginger martini and the classic Moscow mule.
Pumpkin spice: Why keep this delicious spice just for coffee? Use it to add an autumnal twist to a variety of drinks, such as an old fashioned. You can make your own pumpkin spice with simply the three ingredients above, with the addition of cloves.
Pick local seasonal fruit
Fruit is a key component of many cocktails. There are so many benefits to choosing fruit in season: it's more eco-friendly as it won't have far to travel, it's usually the cheaper option, and the produce tends to be much fresher. And as there are so many delicious options at this time of year, there really is no down side.
Apples are readily available in the autumn months and the sweet, crisp flavour they provide makes them an ideal addition to cocktails. They pair well with autumnal spices, and can be used in a variety of drinks, including in martinis, cider-based cocktails, and with gin and fizz to create an English garden inspired drink. If you're looking to double up on fruit to pack the drink with even more fresh flavours, apples work well with pears, which are another autumnal fruit. Blackberries are also available in abundance at this time of year and can be used in a variety of drinks, like with a berry spritz and in the classic blackberry bramble cocktail.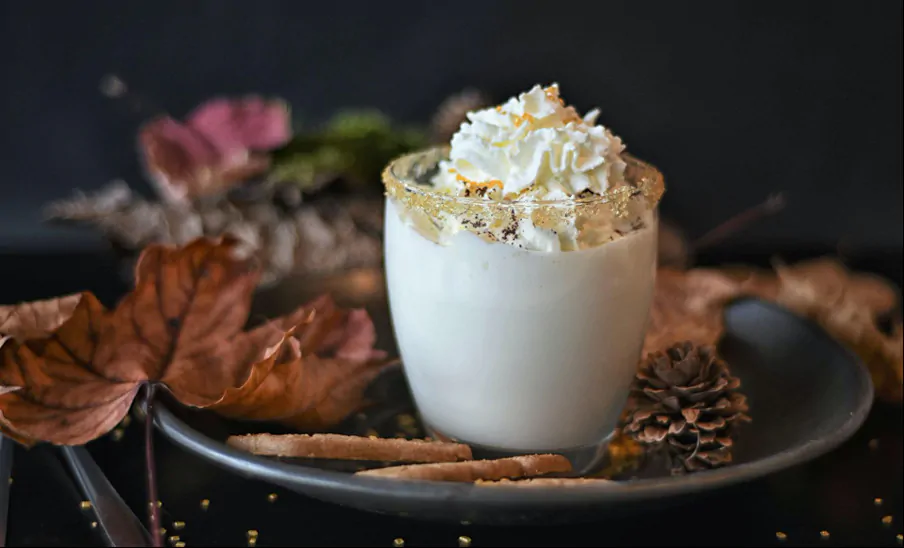 Add some warmth
Once the weather starts to cool down, you'll no doubt be searching for warming foods and drinks on chilly autumnal nights. While most of the cocktails we enjoy are cool and refreshing, there are plenty of hot alternatives to add try this season to warm up. If you're looking for a classic, make sure to try the iconic hot toddy: as well as being hot, the whisky gives this drink a bit of a kick.
For a creamy and comforting drink, try some boozy coffees and hot chocolates. These are great as drinks on their own, or even as dessert alternatives. You can use a selection of autumnal spices here too, by making an Irish pumpkin spiced latte or a spiked cinnamon hot chocolate with whisky.
Another great drink to try is a tea-infused cocktail. These are all the rage at the minute thanks to TikTok —the #teacocktail tag currently has 2.3 million views. You can use flavoured tea to add warmth to a variety of cocktails, such as by using ginger tea in your hot toddy or pairing an Earl Grey tea with a bourbon-based cocktail.
Spice it up
Cocktails which pack a punch are a favourite of many people at the minute. The particularly popular jalapeno rose trend has a staggering 138 million views on TikTok, so trying a spicy cocktail or two is a sure-fire way to stay on trend. The jalapeno rose trend simply involves adding slices of the spicy pepper to a glass of crisp rose, but there are plenty of other cocktail recipes you can incorporate spice into.
One good way to spice up sweet drink recipes is by using a chilli-infused simple syrup. This is a great addition to a number of drinks, such as the margarita and the old fashioned. Chilli pairs perfectly with dark chocolate, so try adding these two distinctive ingredients to a martini for twist on a classic. You can also use spice as a garnish, by mixing chilli powder with salt to add to the rim of a glass, or adding a few slices of jalapenos to the drink like in the jalapeno rose trend.
Guy Cooper, Managing Director at Mitchell & Cooper comments:
"Autumn is easily one of the best seasons for flavour. Not only are there some great sweet spices to use, like cinnamon and nutmeg, but you should be able to find some tasty seasonal fresh fruit nearby for a reasonable price, like apples and blackberries. These are all fantastic flavours for cocktails, so you have plenty of choice. You can use them to add twists to classics, like cosmos and margaritas, or even experiment and come up with something completely new."