A time is coming when the humane dispatch of live shellfish, among other things, is going to be part of a legal requirement - the animal health act. If you serve shellfish and you buy it in live then you need to start to consider how you are going to do that. Crustastun has the answer!
A case in point is crab and lobster. Plunging live shellfish into a pot of boiling water will not cut it in the future. You will have to seek and find humane ways of doing this.
Fortunately, there is a solution. It's humane, inexpensive (following an investment) and will sit well on your menu. The technology is called Crustastun.
We talked to David Markham, Director at Blue Seafood Co in Devon who are one of the largest suppliers of ethical Devon crab in the UK. The company was instrumental in setting up Crustastun in 2004 and have helped to create the technology that it used today.
"It's great news that sentience of crustaceans is being brought into the pubic eye by organisations like The Chefs' Forum," David told us recently.
"We helped develop the Crustastun back in 2004 and have always used a commercial version which processes two tonnes of crab per minute. During the season, we harvest 35-80 tonnes of crab a week, which is then sold across the UK, Europe and Asia. The humane dispatch of live crab and lobster is soon going to come under the animal health act, it is coming and chefs need to be ready. My advice would be to save time in avoiding awkward questions on how crustaceans are killed in their restaurant and invest in a Crustastun.
We are delighted that Crustastun has enhanced the technology and a fantastic enhanced version is available for chefs in the professional kitchen in advance of the new legislation coming in. This is great news for us as we'll be opening our own restaurant on Paignton Harbour this July called The Crab and Hammer. We'll have 50 covers inside and 30 outside. The offer will be 'crab shack style' with fantastic dishes from across the world and will be a great addition to the restaurant scene in the busy and touristic seaside town of Paignton in Devon."
How it works:
The animal is placed belly down on a sprung tray in the unit. As the lid is closed, the shellfish and tray are pushed down by the electrode sponge into the saline solution. The operator then presses one of the stun buttons on the front of the machine and a current passes through t he 13 brain centres of a lobster, or the two brain centres of a crab. Stunned in 0.5 seconds - Killed in under 10 seconds.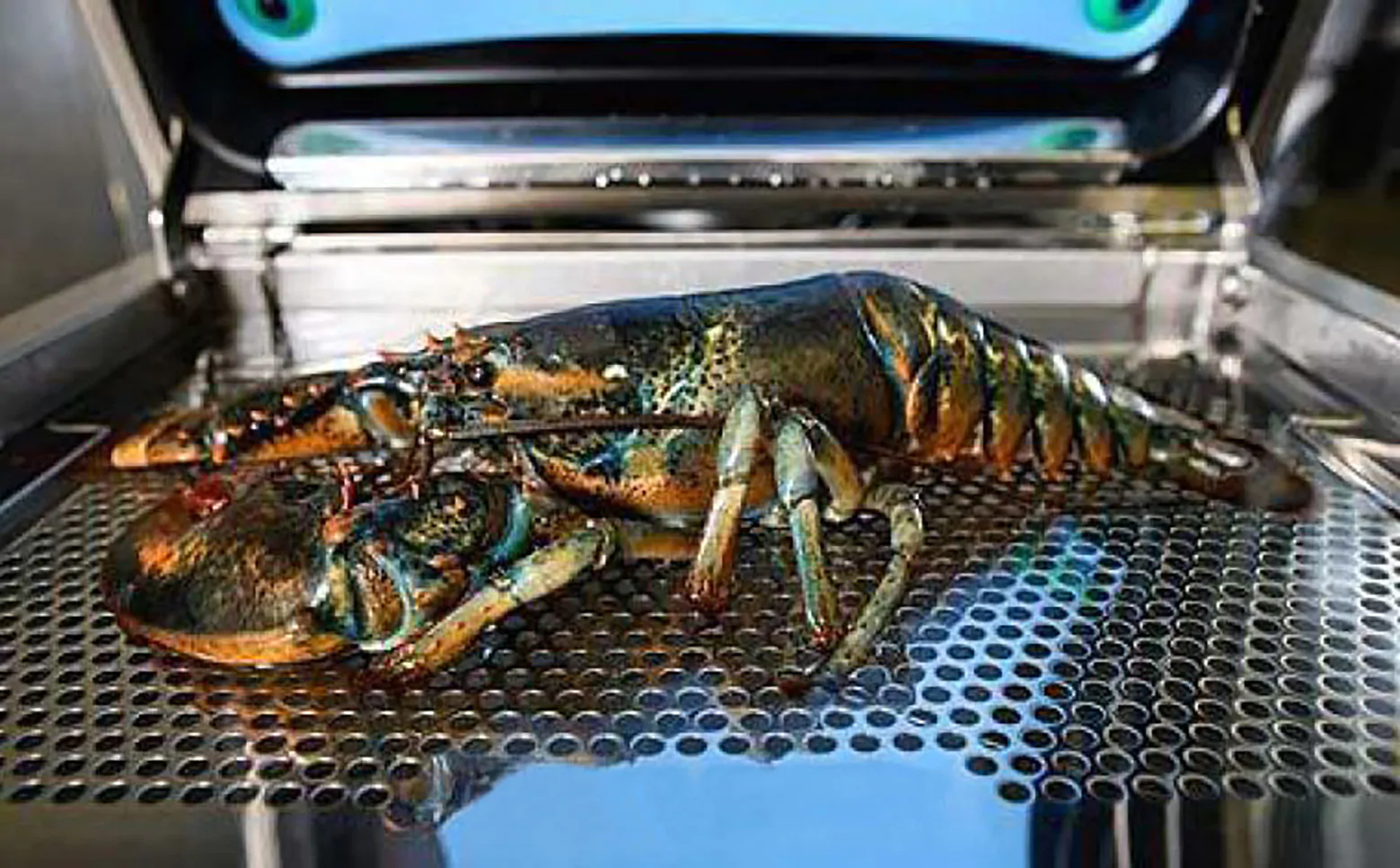 WHAT USERS HAVE TO SAY

Darrin Hosgrove, Chef Director at Ashburton Cookery School is another longterm fan of Crustastun, also based in Devon. Darrin is delighted that the sentience of crustaceans is finally being taken seriously and a bill being introduced. He said
"Animal welfare and the humane treatment of all meat and fish products that we purchase at Ashburton Cookery School has been a guiding principle of the business from the start and is at the heart of everything we do.
The crustastun allows us to humanely kill live crabs and lobsters without causing undue suffering to them.
There is a notable improvement in the quality of the meat from both crabs and lobsters when they have been stunned before cooking. This increase in quality is widely attributed to be a result of the reduced stress on the crustaceans.
Through our professional training academy we have been able to educate future chefs on the benefits of using the crustatsun and have been using the machine for the last eight years producing fantastic dishes for our students to enjoy."
Listen to Nigel Bloxham from The Crab House Cafe describe how he cannot live without his Crustastun and how customers ask how their food arrives on their plate.