Top Devon Chefs Hooked on Fabulous Fresh Fish, HotmixPro and Crustastun at Dart Fresh Foodservice!
On Tuesday (27) April 2021, Dart Fresh Foodservice in Exeter played host to a series of socially distanced, Covid-safe, cookery demos to showcase their top quality, fresh, local fish and seafood as chefs prepare to reopen their restaurants. This was a great opportunity for Mitchell & Cooper to showcase Crustastun and Hotmix PRO!
Dart Fresh has always aimed to be a one-stop-shop for chefs; to be able to give them everything they need to make their lives easier with making just one order and therefore one delivery. Now, chefs and home delivery retail customers can rest-assured that they are getting the freshest possible fish and seafood, straight from Devon and Cornwall prepared delivered to their kitchens and front doors!
The turnaround time is around 24-48 hours, to ensure that Dart Fresh customers are getting the best possible product, in the best possible condition – straight from the boats in Devon and Cornwall!
Guy Cooper of Mitchell & Cooper said
"It was great to support this fresh fish focus day in showing chefs how to improve crustacean welfare in their kitchens with Crustastun and how they can then use the Hotmix Pro to create a fantastic crab risotto. Chefs using a large volume of live crab and lobster in their menus can help change future practice in terms of methods of dispatch, which have been proven by vets to cause pain. It was great to meet the team from Dart Fresh and The Blue Sea Food Company and discuss ways in which we can collectively educate chefs to the most humane method of processing live shellfish for the best tasting results as the meat is less stressed."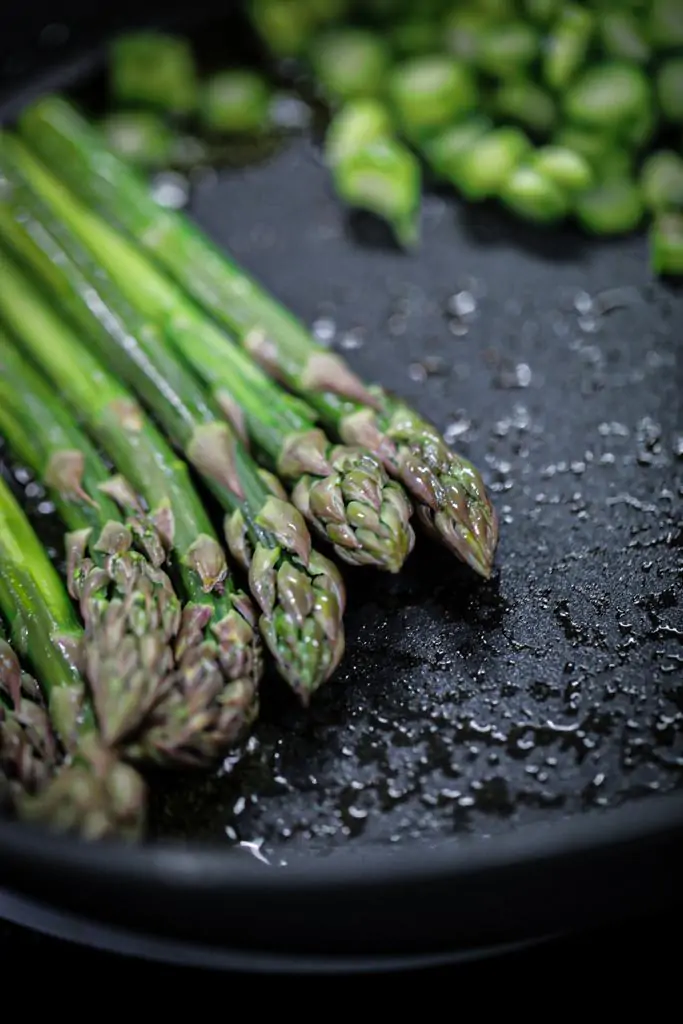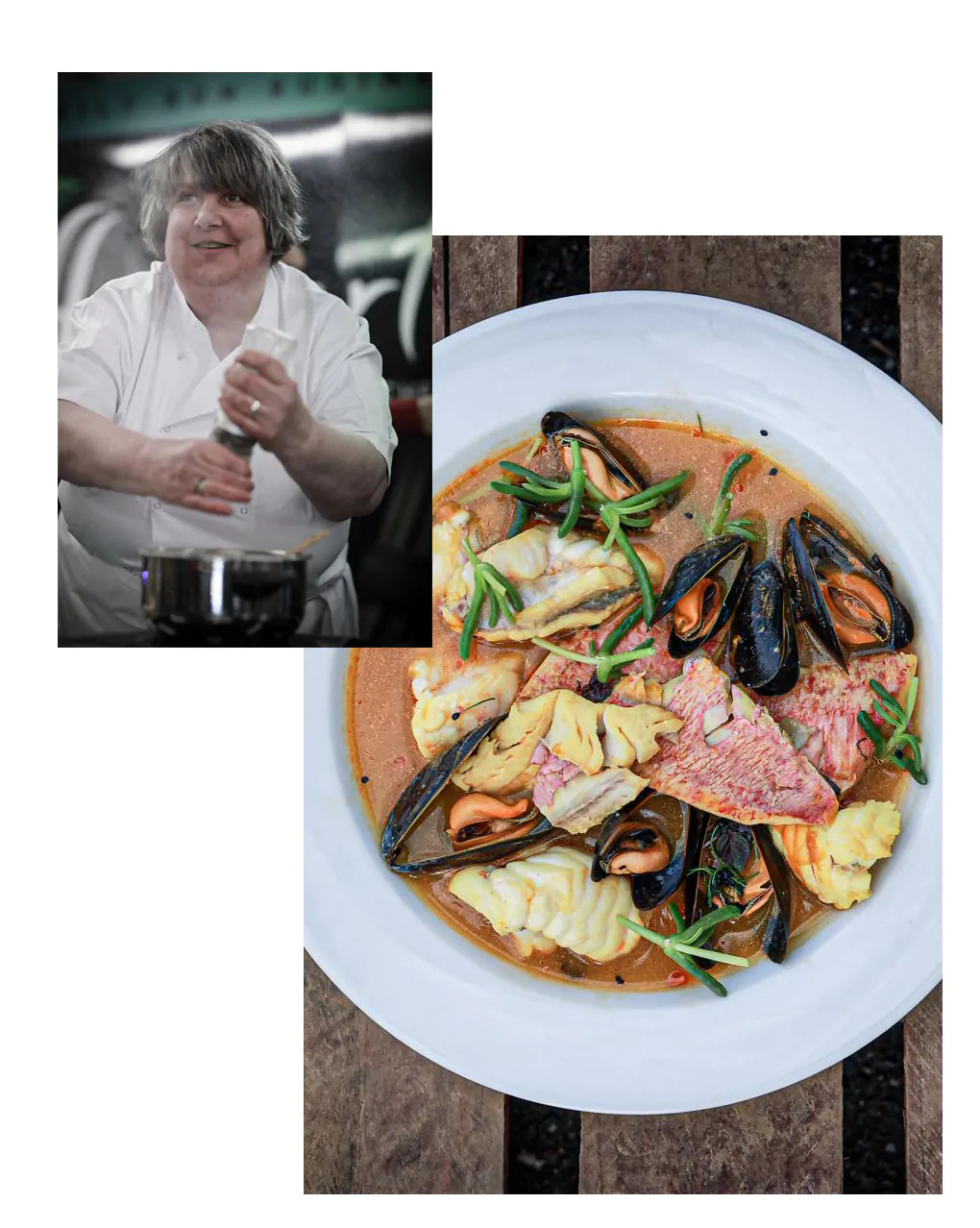 Anita Clare-Field of La Petite Bouchée kicked-off proceedings, making a delicious Bouillabaisse – a traditional provincial fish stew originating from the port city of Marseille. Anita used monkfish tails, mussels, crevettes, and red mullet to create this classic French dish, served in a delicious saffron broth.
The Blue Sea Food Company attended the day and gave the chefs samples of their fantastic crab claws and hand-picked white crab meat. As well as starring in the dishes of such renowned chefs, it is also perfect for the local delicacy of a crab sandwich, so popular with tourists and locals alike!

Mark Dodson, Chef Patron at The Michelin-starred Masons Arms, Knowstone, North Devon, joined forces with his Head Chef, Olivier Certain, to create a wonderful lobster thermidor and two versions of a Brixham crab risotto; one produced in the traditional method and the second using a 'HotMix PRO', an innovative thermal blender and mixer, providing professional kitchens with an extremely versatile and capable tool.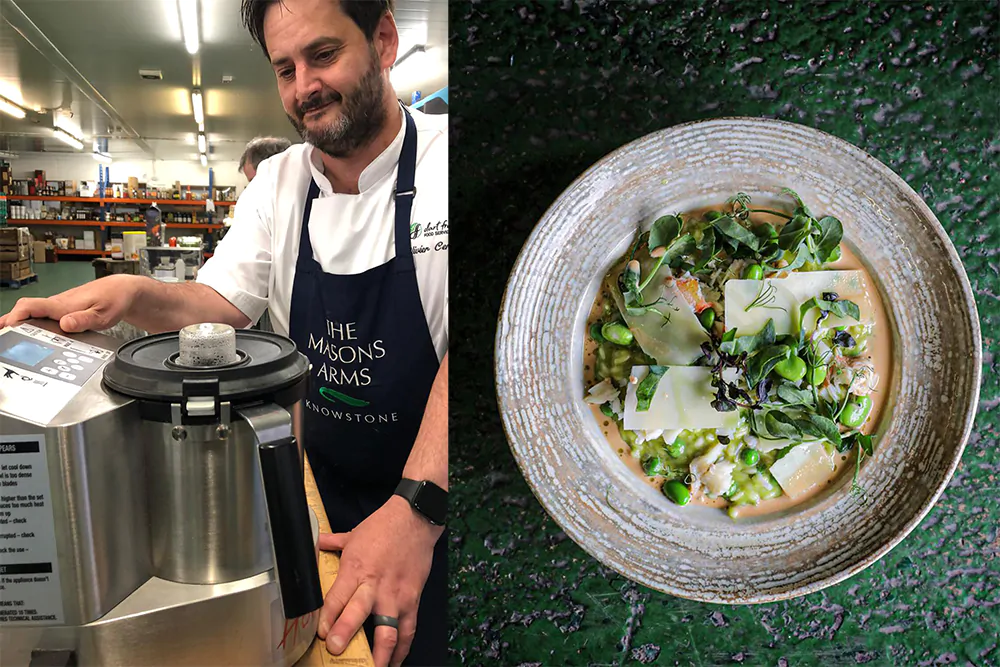 In addition to the HotMix PRO, equipment supplier, Mitchell and Cooper, also demonstrated the use of the 'Crustastun', the world's first and only crustacean stunner. As consumers show a growing concern for animal welfare, as well as increasing legislation being written by countries around the work, the Crustastun is proven to be the most effective and humane way to stun lobsters, crabs and other crustacea, within 0.5 of a second.
Following the demonstration of the crab and lobster dishes, Mark said
"I really enjoyed the chance to see all the fantastic fresh fish available at Dart Fresh. It was great to cook with the wonderful, locally sourced crab and lobster supplied. The Crustastun and HotMix Pro machines also provided an insight as to how such technology can help develop the industry in the future.
To complement our dishes, I particularly liked the sea herbs from Koppert Cress as well as top quality, locally-sourced vegetables from Dart Fresh – The Koppert Cress was fantastic. I used the salty fingers, oyster leaves, blinq blossom and sea fennel on my dish. It's something we'll definitely use at The Masons Arms and great news that we can get it from Dart Fresh!"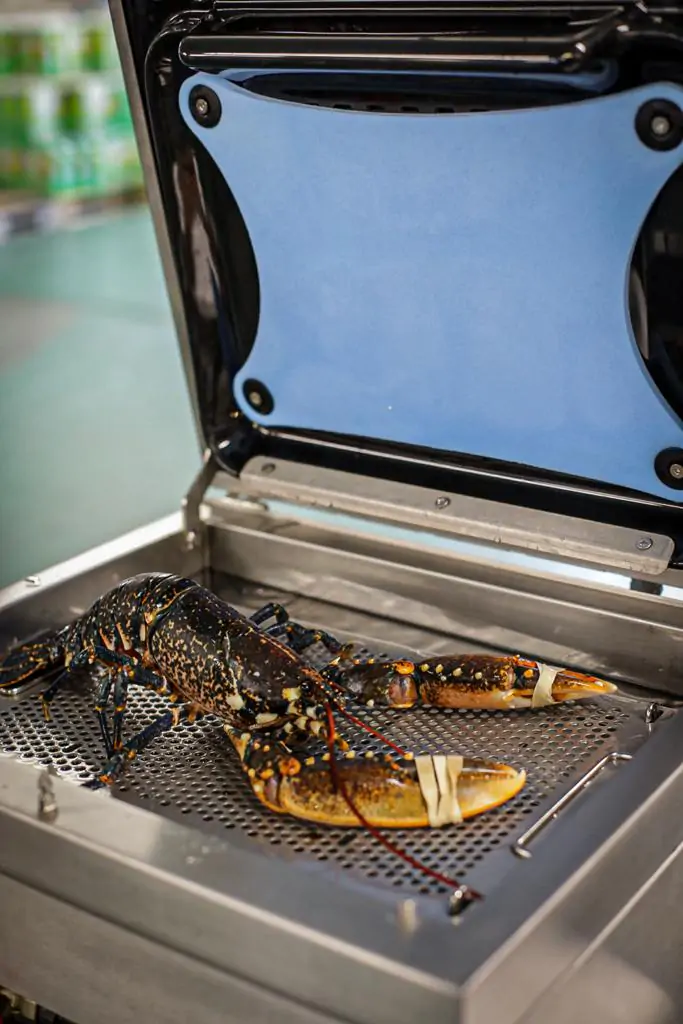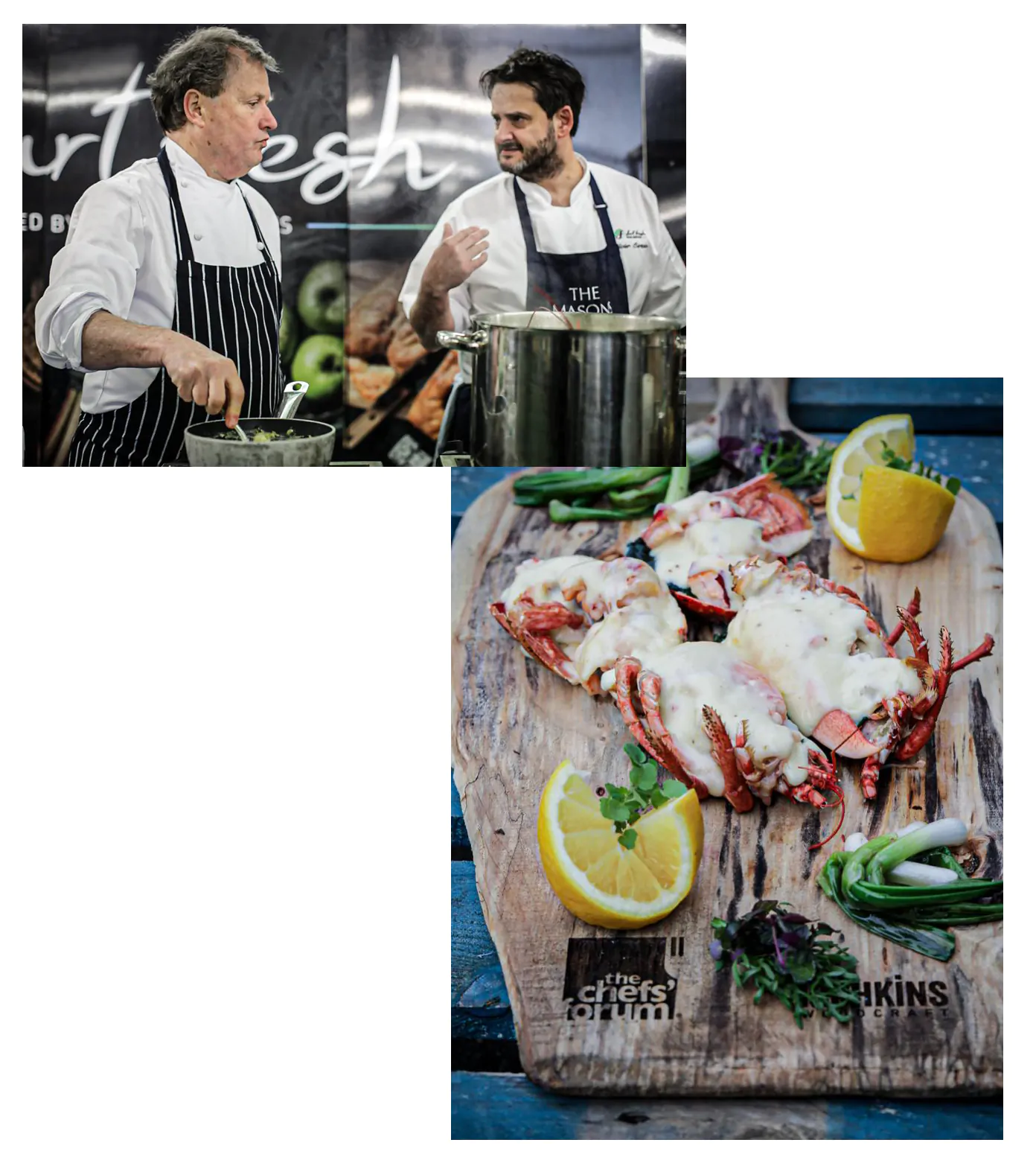 Next was James Checkley from Paschoe House with an impressive scallop dish with cucumber and caviar butter sauce. The dish was delicious and really showcased the fresh scallops in their best light.
Jack Cannell, of Tytherleigh Arms, finished a day of tantalising demos with his signature dish of Newlyn hake, River Fowey mussels and perfect pillows of charred gnocchi. Having worked with a number of top chefs including Michael Caines and Andrew McLeish, it was clear to see that Devon is well on the way to having another Michelin-starred chef!
Second generation costermonger and Director, John Pritchard, had diversified the business as he wants to offer chefs a complete foodservice solution, including a fantastic fresh and frozen fish offer and now a full-service butchery unit on site, showcasing Dartmoor beef and lamb!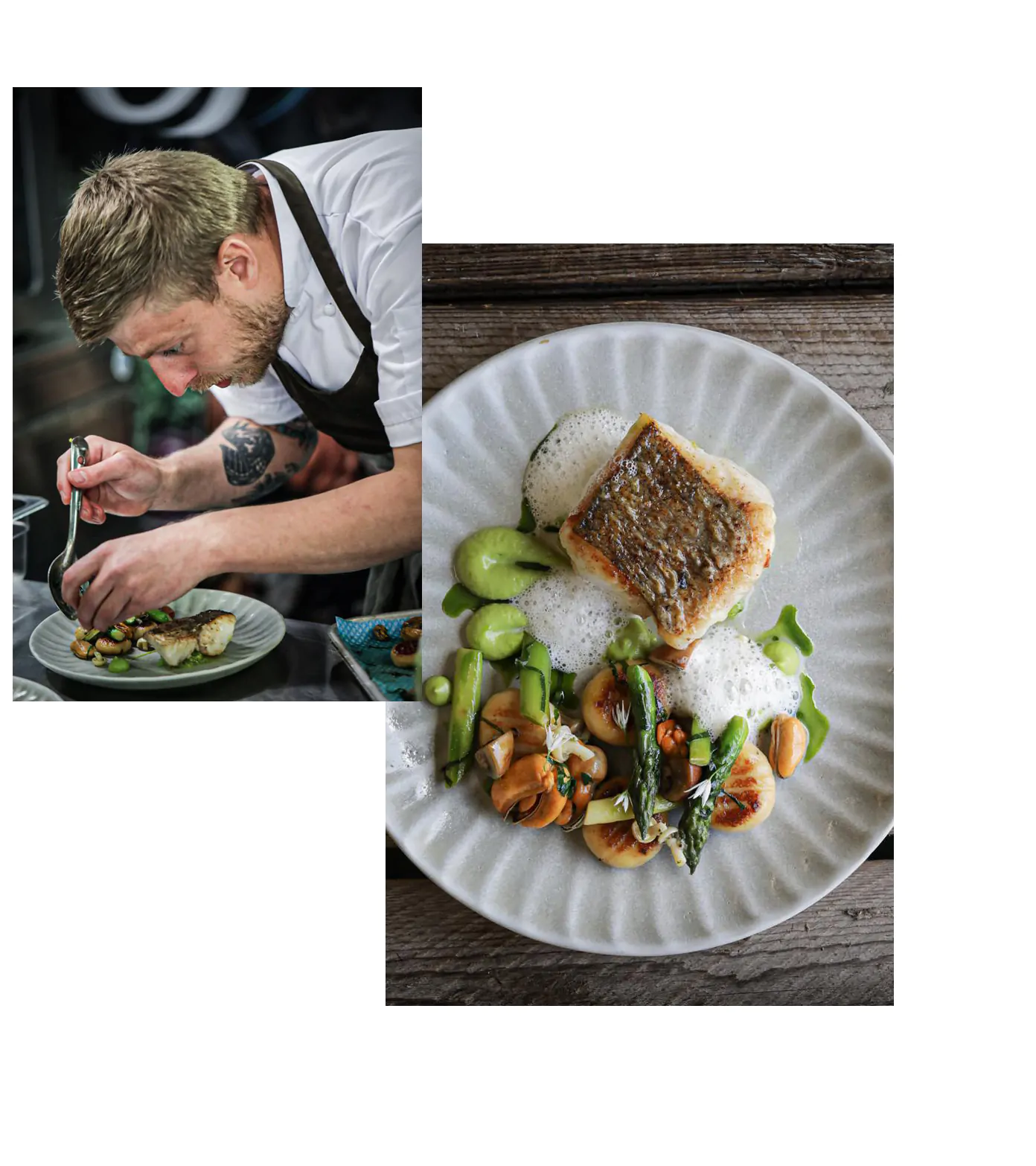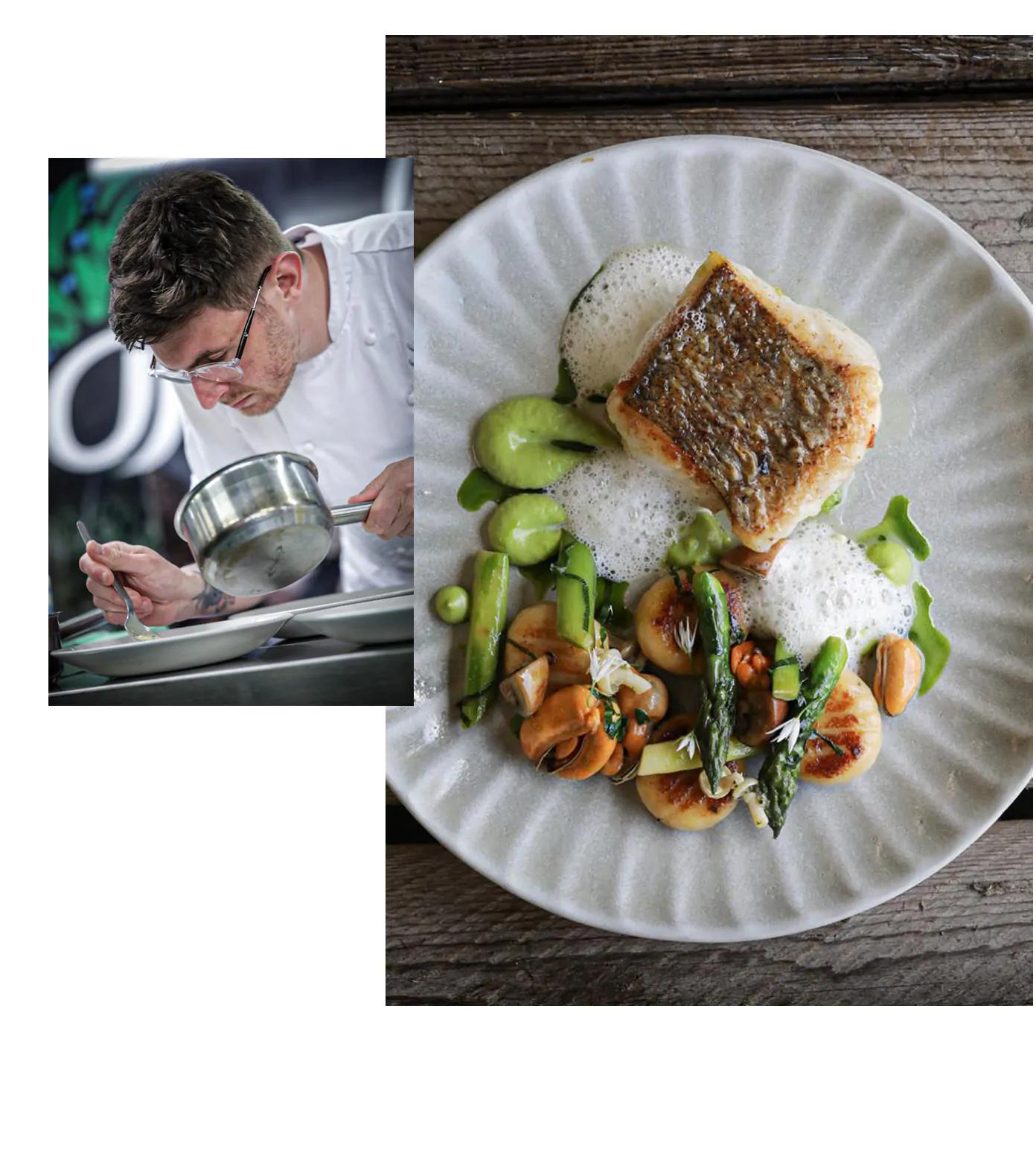 Throughout the day John invited the crème de la crème of chefs over to Dart Fresh to cook with his top-quality produce in preparation for the restaurants, pubs and hotels reopening.
Paul Da Costa Greaves from Koppert Cress showcased his fabulous range of micro greens and cresses and how they can be used as fortifiers in food to boost health and flavour.
David Markham, Director at Blue Seafood Co said
"Great news that sentience of crustaceans is being brought into the pubic eye by organisations like The Chefs' Forum. We helped develop the Crustastun back in 2004 and have always used a commercial version which processes two tonnes of crab per minute. During the season, we harvest 35-80 tonnes of crab a week, which is then sold across the UK, Europe and Asia. The humane dispatch of live crab and lobster is soon going to come under the animal health act, it is coming and chefs need to be ready. My advice would be to save time in avoiding awkward questions on how crustaceans are killed in their restaurant and invest in a Crustastun."
"We are delighted that Crustastun has enhanced the technology and a fantastic enhanced version is available for chefs in the professional kitchen in advance of the new legislation coming in. This is great news for us as we'll be opening our own restaurant on Paignton Harbour this July called The Crab and Hammer. We'll have 50 covers inside and 30 outside. The offer will be 'crab shack style' with fantastic dishes from across the world and will be a great addition to the restaurant scene in the busy and touristic seaside town of Paignton in Devon."
John was delighted to host a day of fishy culinary excellence and really enjoyed working with the visiting chefs who created some really delicious dishes, using classic techniques, he said

"This was a great chance to showcase the journey of where we've come from as a fruit and vegetable company in 1957, working with the supermarkets, to becoming an all-encompassing foodservice company and now introducing an online home delivery offer with the onset of the pandemic, which is proving really popular. Our fresh fish and seafood is simply the best money can buy, sourced locally from Devon and Cornwall and delivered to order within 48 hours for minimal food miles."
This was the fourth in a series of culinary focus days to be held by Dart Fresh, in association with The Chefs' Forum, to showcase the vast range of meat, fish, fresh fruit and veg, fine foods and cooks' ingredients available to top chefs and now, retail customers, online.
John and the team are delighted to be supporting chefs at this difficult time and keeping them up to date with all the latest moves at Dart Fresh, and in the industry, to enhance and enrich the vast product range in preparation for the return of hospitality, as chefs set to work on menu planning and sourcing fantastic produce for their kitchens.
New additions to the impressive range of over 3000 products already offered include Koppert Cress microgreens and cresses, Santa Maria herbs and spices as well as a full range of gluten free bakery products.