Luxury country house hotel, The Newt in Somerset, has jus t received a glut of delicious 'Eureka lemons' from its sister hotel, Babylonstoren's harvest in the South African winelands.
The hospitality team at The Newt have decided to call August 'Lemon Month' and their chefs, bakers and mixologists are now busy putting them to good use across the wondrous estate in Somerset.
There are two restaurants: the elevated, glass-walled Garden Café overlooking the walled Parabola and surrounding gardens and countryside, and the Botanical Rooms in the hotel, with its fabulous, homely open kitchen. Both are superb, featuring, indeed majoring on, produce from the Newt's kitchen gardens and greenhouses.
Each place setting offers a dehydrated Eureka lemon slice at each place setting in the Botanical Rooms this month. The front of house team is asked to inform guests their journey by ship, all the way from South Africa as this sets the scene and paints a picture.
They helpfully suggest that the slice be added to a glass of chilled water as a refreshing treat and offer the guests the chance to visit the barn where they are stored and take one home if they would like to do so.
George Smart, Maître d' said
"Lemon month is our celebration of the four tonnes of Eureka lemons we've had shipped over from our sister hotel, Babylonstoren in South Africa. Dehydrating the lemons is just another highly creative way in which we add to the guest experience. The Excalibur dehydrator is a game-hanger as it dries-out the zingy lemon slices overnight ready for service the next day. We also use them in the bar as decorations for cocktails. It is really important that the front of house story really captures the guest's attention and interesting stories and anecdotes truly add to the dining experience – We've found that the 'Lemon Month' certainly does just that."
The lemon slices are dehydrated in an Excalibur 9 tray dehydrator, which is available now and offers the ability to dehydrate all fresh produce and proteins.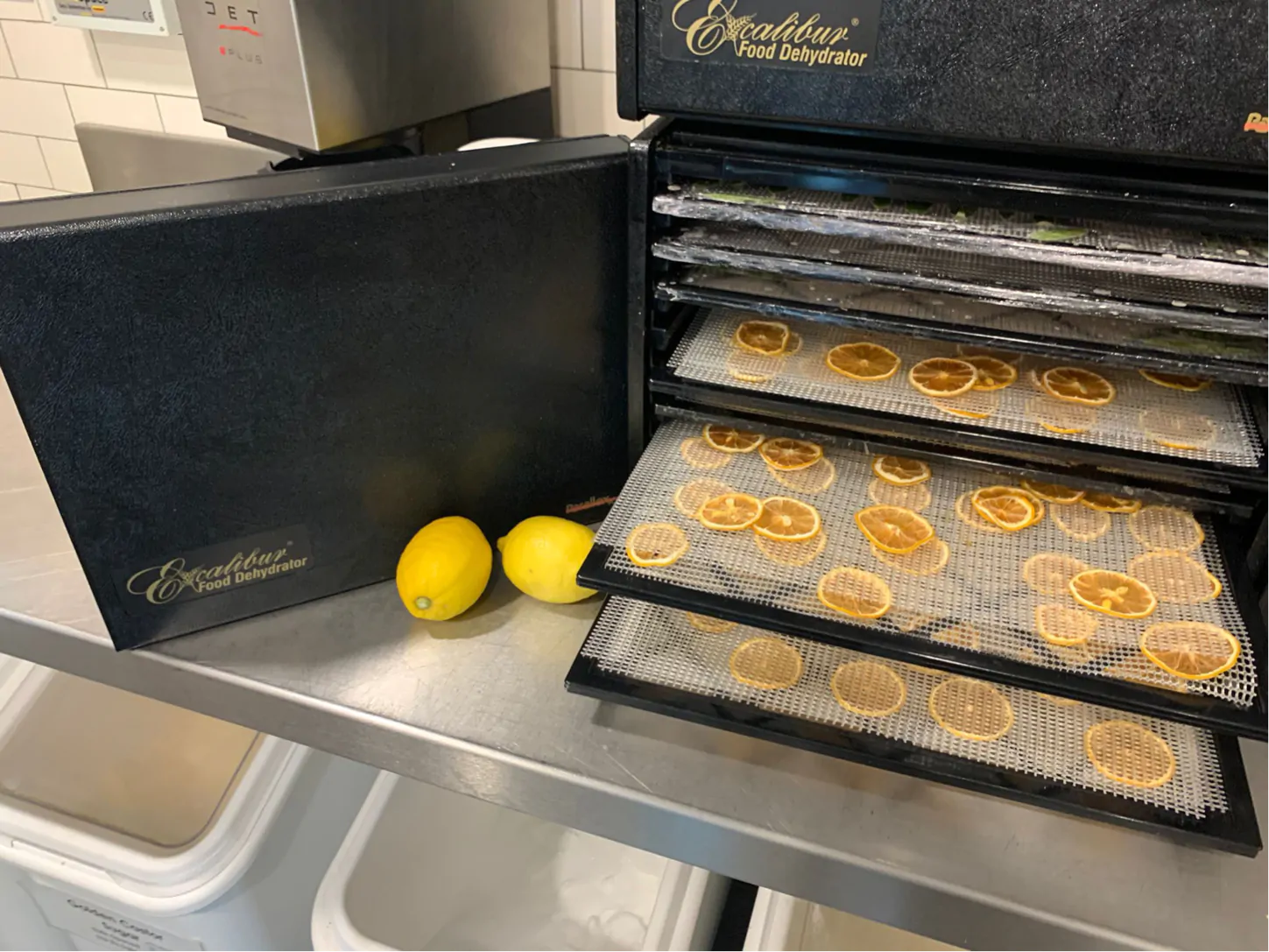 Chefs in The Botanical Rooms restaurant also dehydrate poppy seeds, flowers and herbs as natural table decorations.
Garden produce is also dehydrated to preserve longevity.
FAST FACTS:
Excalibur 9 tray dehydrator 9 trays, 15" (380mm) x 15" (380mm) each. Mesh screens are BPA free.
26 Hour Timer lets you set it and forget it. Unit automatically turns off when the set time is complete.
Adjustable Thermostat 40°C to 74°C.
The range is low enough to preserve active enzymes in fruits and vegetables.
Temperature range is also high enough to meet safety standards for dehydrating meat for jerky.
14 ft2 of drying space
26 hour timer
Adjustable thermostat 40°C to 74°C 7 inch fan,
600 Watts
H310 x W432 x D483mm