How to start a food truck in the UK
If you're looking for a way to share your dishes with as many different people as possible, starting a food truck could be a great option for you. With a food van, you can park in numerous different spots across the UK and share your food with festival goers, food market visitors, people attending community events, and more. With food vans having so much potential, it's no surprise that they've soared in popularity in recent years: there are over 7,000 registered units selling food and drink at festivals, markets, and stadiums, and this is expected to rise even further as the nation's love of street food grows (EU Business News).
While there are so many benefits and opportunities available when it comes to starting a street food business in the UK, there is also a lot of work and preparation that goes into the process, from starting the food truck to the everyday running of your business. To help make the setting up process as simple as possible, we've put together this handy guide on how to start a food truck in the UK. Here we'll cover all the essential information you need before starting your journey, from food truck regulations in the UK to setting up your van and creating your food truck business plan.
Food truck regulations in the UK: FAQs
Is starting a food van business in the UK right for you?
Food truck regulations in the UK: FAQs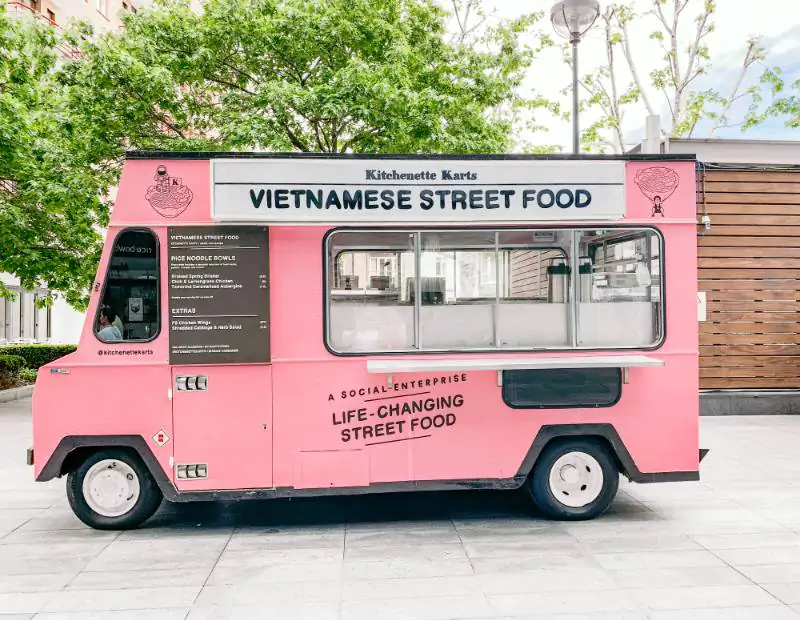 Before starting your mobile street food business, it's important to have a good understanding of food truck regulations in the UK. Failing to follow them can lead to hefty fines, which in turn can be bad news for your business. Here, we'll cover the essential rules and regulations you need to know before starting a food truck.
Can I park my food truck anywhere in the UK?
Some people assume that with the right licence there are no limits on where you can park your food truck, but this is actually not the case. You can't park your food truck anywhere in the UK and start trading, as each town and city has designated areas where food vendors are allowed to operate. When it comes to selling your street food in a public space, there are three different classes of street:
Licensed streets: On these streets you need a Street Trading Licence to sell from your food van.
Consent streets: On these streets you need a Street Trading Consent before selling from your food van.
Prohibited streets: On these streets, trading from your food van is never allowed. These tend to be impractical or unsafe areas for setting up, such as on main roads. Operating on a prohibited street is a criminal offence and can come with a large fine, and in some cases can lead to your licence being revoked.
You can contact your local council to find out whether you need Street Trading Consent or a Street Trading Licence. The cost of these licences also differs a lot depending on your local council, so you should check this in advance and take it into account when deciding on your budget.
When it comes to selling from a food van on private land or an event, the rules tend to differ. For food markets, consent is often not necessarily for individual food businesses as these should be covered by council-issued Market Consents. However, always check the trading regulations of the market beforehand to ensure this is the case.
You may also not need council consent if you are parked on private land, such as a private car park or at a festival hosted on private ground — although you will of course need permission from the land owner and festival organisers. However in some cases, some form of council permit may still be required. It is always best to contact your council for confirmation. While it may seem like an extra step in an already long process, making sure all your bases are covered will prevent the risk of receiving a hefty fine or having your licence revoked.
What licences do you need for a food truck in the UK?
Before starting a food truck business in the UK, you should have a list of all the licenses you need to operate and trade from your van legally. Below is a list of the licenses and registrations required and how you can apply for them:
Food business registration: Whether you are starting a food van from scratch or taking over an existing food truck, you will need to register as a food business at least 28 days before you begin trading. You can apply for food business registration on the GOV.UK website.
A Street Trading Licence or Street Consent Licence: As previously mentioned, you will need a Street Trading Licence or Street Consent Licence if you plan on trading in a public area. You can contact your local council to start this application process.
A driving licence: You will of course need a driving licence to operate your food truck, but the type you need depends on the size of your vehicle. You can find out which driving licence you need for your business here.
Food premises approval: If you plan on serving any type of meat, fish, eggs, or dairy, you will need to be inspected by the council for approval for selling these products. This will not be needed if you plan on setting up a completely vegan food truck.
A personal and premises licence: If you plan on selling alcoholic drinks, or you intend to serve hot food and drinks between the hours of 11pm and 5am, you will need both a premises and a personal licence. You can find out more about how these work and the application process with our UK drinking and alcohol laws guide.
Once you have started trading from your food van, your local council will organise a food hygiene inspection within six months of opening. You will be rated on a scale of 1–5 on various aspects of food hygiene and safety in your business, including how you and your employees handle food, store food, and prepare food, as well as the cleanliness of food truck and how food safety is managed. To pass your inspection, you will need the following prepared:
Hazard Analysis and Critical Control Point (HACCP) plan: A HAACP plan is essential for your food van to ensure you meet all the necessary food safety management requirements. You can find out more about the HACCP on the Food Standards Agency website. You will automatically fail an inspection without an adequate HACCP.
Risk assessment: You must have a detailed risk assessment plan in place to pass your inspection. This plan should include all the potential risks and hazards you may face, and plans for preventing them.
What certificates to you need for a food truck in the UK?
There are also some essential certificates for health and safety to secure before starting a food van business in the UK. The essential certificates for your business are:
Commercial Gas Safety certificate: Also known as a Gas Safety Record form, this certificate is a legal requirement for the owner of any commercial property, including food vans. You must also have annual inspections of your gas appliances to ensure that they are still up to code. You can get a certificate from any Gas Safe registered engineer.
Liquified Petroleum Gas (LPG) certificate: Like the Commercial Gas Safety certificate, you must also have an LPG inspection annually if you are cooking on a gas stove with liquified petroleum gas. If you don't have this certificate when you need it, you could risk your business being shut down.
Portable appliance testing (PAT): A PAT test ensures your electrical appliances are safe to use. It's recommended that this test is done every six to twelve months. You can get this service from a qualified PAT tester. Alternatively, you are able to do your own PAT testing if you take a PAT testing course.
Food hygiene certificate: While not a legal necessity for preparing or trading food, it is highly recommended that anyone setting up a food van gets at least a Level 2 Food Hygiene and Safety for Catering certificate. The course to get the certificate usually takes no more than two hours, and rarely costs more than £30. As well as ensuring your understanding of food hygiene is up to standard, having the certificate will show both the council and your customers that you take food hygiene seriously.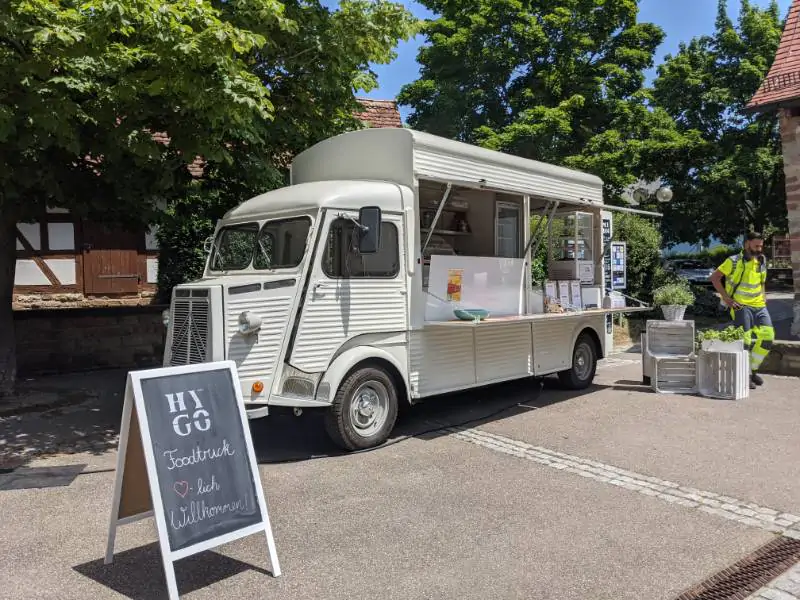 Once you have a good understanding of food truck rules and regulations in the UK, you can start looking more into the process of setting up your business. There are a lot of steps and important considerations to make when starting a food truck — here, we'll go into more detail on each step.
Choosing your niche
If you've been thinking about starting a food truck business for a long time, you may already have this first step nailed down. But if you don't, the good news is that there are plenty of options for you to explore. If you're stuck for food truck food ideas, some of the most popular street food van cuisines include:
Burgers and hot dogs
Pizza
Fish and chips
Hog roast
Breakfast sandwiches
You may want to opt for one of these classic cuisines and find a way to make your establishment stand out from the rest. For example, you can have a variety of unique and bold toppings for burgers and hot dogs, have a completely vegan "fish" and chips van using banana blossom as a fish replacement, or have a selection of healthy and nutritious breakfast sandwiches, as well as the classic bacon and sausage baps.
Alternatively, you may want to find a gap in the market by selling a less common street food cuisine. There are a variety of delicious and underrated cuisines which can rarely be found in food vans, or at all outside of big cities, like Ethiopian, Filipino, Iranian, and Malaysian. If you have a passion for less well-known cuisine in the UK and you're looking to set your food van apart from other businesses, it's worth considering this when establishing your niche.
Creating a food truck business plan
Once you've found a niche you think will work for your business, the next step is to create a food truck business plan. This is important for any new business as the plan can help owners set realistic goals and milestones, as well as be a big help in navigating not just your set up but the first year or so of your business. However, if you're looking to get funding or bring on a business partner, having a well-thought-out food truck business plan is especially important. After all, investors and potential partners don't just need to love the idea of your business, but have faith in your business abilities.
Below are the key aspects found in every business plan, and how you can apply them to your food truck business:
Executive summary: Arguably the most important part of your food truck business plan, your executive summary will summarise the most important points in your whole plan. You should cover key points here such as the concept and niche of your food truck, who your target customers are, how you're your business be different from other food trucks, what are your business goals, and what are your financial projections.
Company description: This section should cover what exactly your niche is in more detail, how you are adding something new to the market, and if you're getting investment, why you and your business are a worthy candidate. You should cover more practical information here too, such as your business structure, who you plan to add to your team, and the name and logo of your business.
Market analysis: For any business to succeed, it must understand its customers. Use this as an opportunity to find out more about who they are and what they're looking for. Find out how large your target market is, look at both the future growth and limitations of your market, and create an ideal customer profile to find out what they're looking for in a food truck.
Competitive analysis: Understanding who the competition are is key to standing out from the rest and succeeding, so this is a very important step. Look at successful food trucks in your area, identify how their businesses are failing and succeeding, and how you can exploit weaknesses and gaps in the market.
Description of services: Here you can go more into exactly what you're offering with your food truck. This could include creating a menu (even if it is just a sample for now) and deciding on a pricing structure.
Marketing plan: You should know in advance how to successfully market your business. You could get inspiration by looking at what other successful food trucks in your area are doing to market themselves. The two key considerations here are how to retain customers, and how to attract new ones.
Financial projections and goals: You should set positive but realistic goals for how you want your business to grow financially over the first five years. While it can be tempting to set expectations high, especially if appealing to investors, being realistic with your goals shows you understand both the strength of your business and the limitations of your market.
Funding request (optional): If you are looking for a business partner or an investor for your food truck, include your funding request directly after your financial projections. Your funding request should cover how much you will need, as well as what you plan to spend your funding on.
Setting a budget
While the costs of starting a food truck may be lower than opening a bar, bakery, or restaurant, the initial start up costs of setting up your van can still be costly. The biggest expense will of course be the food truck itself. The good news is that there are a large range of options to consider, from budget second hand food vans to brand new, high-end trucks. Other expenses to account for include:
Equipment: This will likely be your next largest expense, which we'll cover in more detail below.
Licences, certificates, and vehicle tax: Remember that these can vary, as the cost of a Street Trading Licence and a Street Consent Licence can change considerably from council to council.
Insurance: Getting a good insurance policy is important for any business. The insurance cost will vary depending on a number of factors, including the area your business is in and the size you're your food truck.
Food, drink, and packaging: This cost will vary from van to van, depending on factors such as the ingredients you're using, whether most are fresh or long-life tins and cans, how large your menu is, and the type of packaging you intend to use.
Wages: Decide on how much you will pay both your employees and yourself.
Payment systems: Most food vans accept card payments now, so it's best to invest in one to avoid giving your competitors an advantage.
Running the van: One thing you will have to account for which other hospitality businesses won't is the cost of running your van, so make sure to give yourself a generous petrol budget.
Maintaining the van: It's good to have some money set aside from the start for emergency van maintenance.
Extras: Make a list of small extra touches and how much you expect to spend on these. This could include larger expenses like gazebos, as well as smaller additions like decoration for your van to attract customers and marketing expenses, such as the cost of printing flyers.
The Nationwide Caterers Association puts the cost of starting and running a food truck as anywhere between £5,000 and £50,000 (or even upwards) depending on your budget. So, if you're looking for a good ballpark figure to start with, it's a good idea to aim for a budget within this range.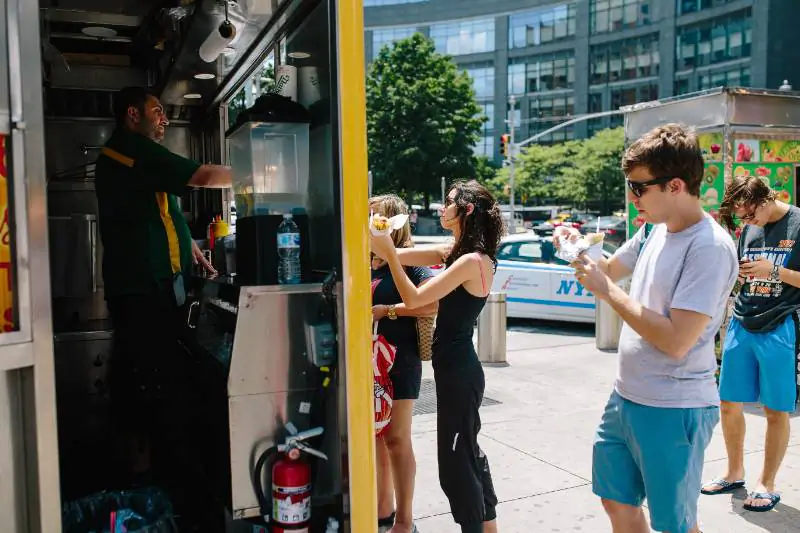 Buying the essentials: What equipment is used to make street food?
While choosing your equipment may seem like an easy task, it's important to do plenty of research beforehand. Investing in the right equipment doesn't just impact the quality of your food, but it can open up even more possibilities for your menu, especially if you choose particularly versatile appliances. Start off by considering the food preparation equipment you may need. Here's a list of some essential preparation equipment that's often used to make street food, as well as a few less common appliances to set your business apart from the rest:
Blenders and/or stick blenders
Thermometers
Can openers: You can find out more about choosing the right can opener and maintaining your can opener with our informative guides.
Portioners: Food portioners are a great way of ensuring you perfect your serving size every time, to help you keep track of costs and reduce food waste. We have a selection of particularly tough and durable Bonzer portioners, ideal for sandwich filling, servings of ice cream, and more.
Dehydrators: This versatile appliance is ideal for a variety of dishes, from dehydrating fruit for cocktails or ice cream toppings, to creating your own vegetable crisps.
Gelato machines: If you're looking for a convenient dessert option, a gelato machine could be a worthwhile investment for your food truck. With a Nemox Ice Cream Machine, you can make artisan ice cream in just 12 minutes, plus this appliance allows customers to see the gelato churning so they know that you're offering the freshest foods.
You'll also need cooking equipment if you plan on serving hot food. Below are some of the products you might need:
Grill and griddle
Fryers
Electric ovens
Stove tops
Microwave
Toaster
Countertop food warmer
If you plan on attending festivals with your food truck, you may also want to provide an ample drinks selection. Offering cocktails can be a great way to both expand your offering and bring new customers in. If you're interested in making cocktails, here's the bar essentials and cocktail equipment you'll need:
For those who don't have any cocktail equipment, it may be easiest to invest in a cocktail kit, for a bundle of all the essential products you'll need.
Another consideration to take into account is storage solutions. You'll likely find space is at a premium even in the largest food trucks, so making sure every bit of space counts is important. Dispensers can help you both save valuable counter space and make your food truck look much tidier and leave a good impression with customers. We have a wide range of wall-mounted dispensers to browse at Mitchell & Cooper, as well as cup dispensers, lid dispensers, and straw holders and waste chutes.
Last but by no means least, keeping health and safety essentials in your van is vital for the safety of not just yourself and your staff, but for your customers and the general public. Essential pieces of health and safety equipment include:
Janitorial products for keeping the van and appliances clean
First aid kit
Protective gloves and clothing
Portable fire extinguishers and fire blankets
Insurance
Insurance is an essential expense for the future of your business, so do plenty of research to find an insurance policy that suits your business best. There are a number of different insurances recommended for starting a food van business in the UK. These include:
Employers Liability Insurance: All employers must legally have Employers Liability Insurance, which covers the health and safety of your staff members if they become ill or injured in the workplace.
Public Liability Insurance: This type of business insurance can help protect you from claims made about your business by customers or members of the public.
Product Liability Insurance: Another important type of business insurance, this covers you for claims made by customers who believe they have been injured as a result of the products you've sold. For example, in catering businesses this could be used for food poisoning claims.
Vehicle insurance: This is essential for any vehicle, including food vans. You should also get a van contents cover upgrade to protect your appliances.
Promoting your food van
Having a good marketing strategy is key for any business, but especially when starting a food truck. While restaurants, bars, and other hospitality establishments have permanent addresses, you may have a number of locations where you trade in each week, as well as one-off special events like festivals. For this reason, establishing a strong online presence as early as possible is key. This allows you to share where you are each week with customers to help you build a regular clientele. As well as having a regularly updated website, you should also prioritise your social media accounts. The good news is that creating social media accounts is completely free and posting regularly is a great way to get the word out. Make sure to have active accounts on all the major platforms, including Facebook, Instagram, TikTok, and Twitter.
Of course, you shouldn't forget about more traditional forms of marketing too. You may want to look into physical advertisements when you're first starting out, such as in your local paper or magazine. Make sure to include your website and social media handles in your adverts so potential customers know where to find you. You can also print your own leaflets and cards for customers to pick up from your van.
Is starting a food van business in the UK right for you?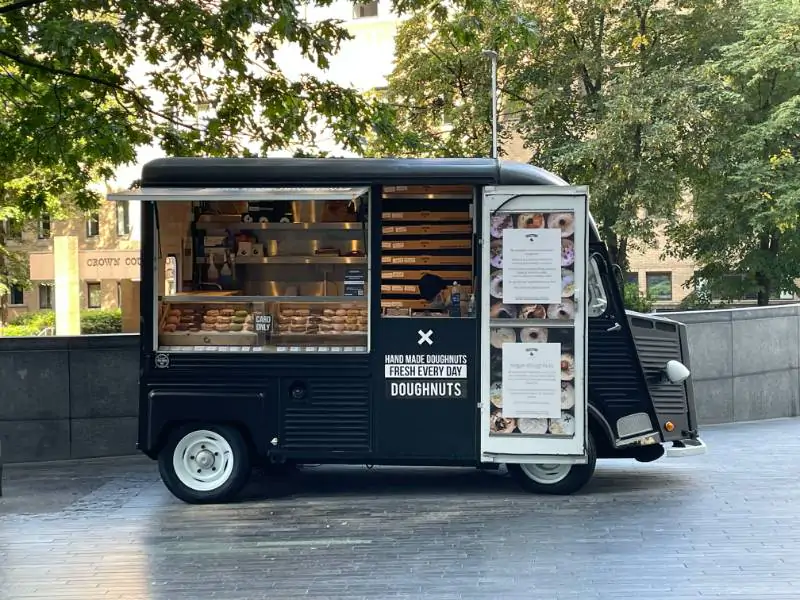 If you've made it this far, you're likely already invested in your future food van business. But before making the plunge, it's worth considering whether it Is the right option for you. Here, we'll cover some of the pros and cons to starting a food truck in the UK, and look at earning potentials to help you make the final call.
The pros and cons of starting a food truck
Like any business, starting a food truck in the UK comes with a number of advantages and disadvantages. To help you decide whether a food van is the right business opportunity for you, we've gathered some of the main pros and cons to consider.
| | |
| --- | --- |
| Pros of starting a food truck | Cons of starting a food truck |
| Costs: Starting a food truck costs much less than opening a restaurant or other hospitality business. | Rules and regulations: You can't just park your food truck anywhere in the UK. You need to thoroughly check the regulations for each council district to ensure that you don't get fined. |
| Lower risk: With lower costs, come lower investment risks. | Weather: Without indoor seating options, wet and cold weather may deter customers from visiting. |
| Flexibility: You can travel around and reach a wide range of different customers. | Tight space: A food truck is a lot shorter on space than a regular professional kitchen. This can make it difficult when it comes to storage space, or having multiple people working in the van at the same time. |
| Opportunities: The food van market is a competitive one, but much less so than the restaurant market. | Hours: With festivals and events, you may end up working a lot of long hours and weekend shifts. While this isn't a negative for everyone, it may be worth considering this if you value your free time and a good work-life balance. |
| Room for expansion: If your business does very well, there is room for expansion in the future if you choose to open a physical restaurant or café. | Longer wait for food: A small workspace makes it difficult for multiple people to work at once. Without as many hands on deck, customers can be left waiting a long time for food. Although it's worth noting, this is the same for almost all food van businesses. |
How much do food trucks make in the UK?
There is no one answer to how much food trucks make in the UK, as of course this depends on a large number of factors, from your budget and facilities to location and the local competition. However, the good news is that with hard work, plenty of research on the food truck market, and a solid marketing plan, there is potential for some healthy profits. Many food vans in the UK have annual turnovers in the hundreds of thousands. While turnover can of course be variable, this indicates that there is definitely good profit potential for those looking to start a food truck business.
After reading this guide, you should have a good idea on how to start a food truck business in the UK. If you're ready to take the plunge, we have a variety of kitchen appliances, cooking and bakeware, kitchenware, bar essentials, and more for your van, so make sure to browse our full range today.
Looking for more informative reads? We have a wide selection of guides, expert knowledge articles, and blog posts, full of useful information and inspiration. Give them a read today.